Community Murals for 13th & Fir Family Housing 
Request For Qualifications (RFQ)

206 Zulu and SCIDpda are seeking mural artists or artist teams to design and install publicly viewable murals on the 13th & Fir Family Housing building exterior located in the Central Area in Seattle, Washington.

ABOUT THE PROJECT
13th & Fir Family Housing is a joint venture of two local non-profit affordable housing developers, the Seattle Chinatown International District Preservation and Development Authority (SCIDpda) and Community Roots Housing (CRH). The new building is a 6-story mixed use housing project providing space for 156 low-income family-sized apartment units, community-based commercial spaces, and a childcare center. 

SCIDpda, who will manage the property, is partnering with local arts organization 206 Zulu to facilitate the installation of murals at 13th & Fir Family Housing. For over a decade, 206 Zulu has been hosting their annual Off the Wall event, a one-of-a-kind annual graffiti art competition and community festival that spotlights the local and international talent from the aerosol art community, at the old King County records building (the current site of 13th & Fir). This project is a unique opportunity to continue the legacy of street art at a building designed to help our low-income families live and stay in Seattle.

The goal for this project is to create large-scale art at a brand new affordable housing building, 13th & Fir Family Housing, that is impactful and reflective of the immediate neighborhoods' collective values and diverse community. 

ART PLAN
In the winter and spring of 2022, 206 Zulu and SCIDpda facilitated meetings with an Art Advisory Committee (AAC) to create an art plan for 13th & Fir. The art plan is a document that establishes the foundation for the art selection process, art themes, location priorities, and community engagement process. A number of community-based organizations and other community partners are represented on the AAC, including Bailey Gatzert Elementary, Seattle University, Norman Mitchell Manor, Urban League of Metropolitan Seattle, Mithun, Friends of Little Saigon, Seattle Housing Authority, Community Roots Housing, and Denise Louie Education Center. We highly encourage all interested artists/artist teams to review the Art Plan to gain a better understanding of the values and goals of this project. The Art Plan can be viewed here.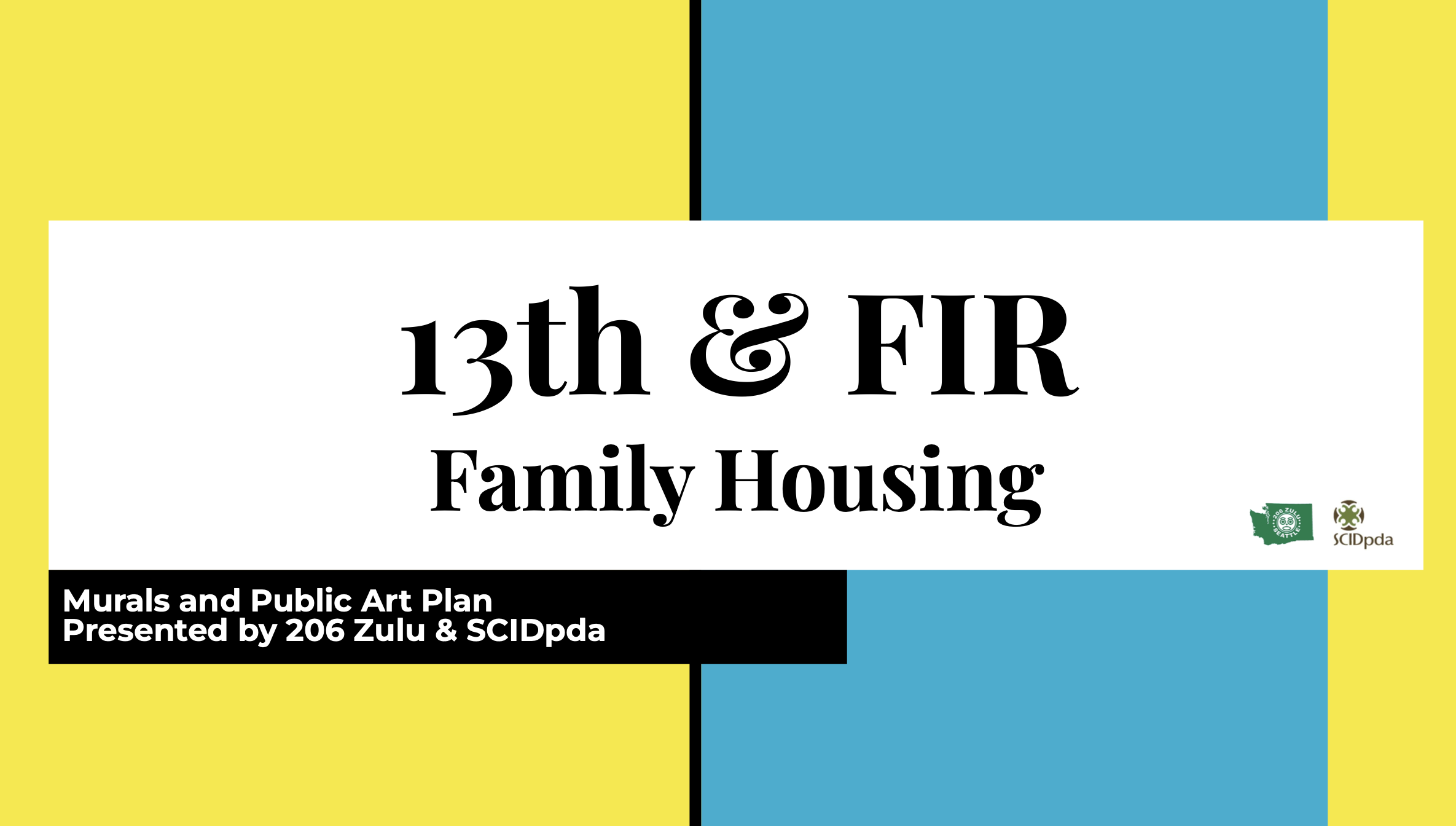 FUNDING
This project is funded through grants from the Seattle Department of Neighborhoods (DON) and Office of Arts and Culture (ARTS). As part of the ARTS grant, it is required that youth are a component to the programming and youth voices are encouraged in communities to explore and create outdoor street art. This grant also requires maintenance of the completed artwork for a period of two years after completion of the art work (2024 and 2025). See "PROJECT BUDGET" for further detail and payment schedule.

MENTORSHIP
Mentorship and advancing opportunities for youth, young adults and emerging artists is an integral component to the work we do. You may apply as an individual or as a lead of a group, however, as part of this RFQ, we require that you enlist the support of one emerging artist in your mural project. This person (under the age of 26) must have some public art experience and be working towards a career in the arts. You may choose someone who you have a working relationship with, or if needed, we can help coordinate a young emerging artist within our networks. We have an additional stipend of $500 for their involvement in your project, outside of your artist fee.

LOCATION
The building is located at 1215 East Fir Street, at the intersection of Yesler Terrace, the Central District, and Chinatown International District. This Request for Qualifications is looking for artists/artist teams who will focus on external mural locations on the west facade. The wall is in a prominent location visible to the Yesler Street traffic, Seattle Streetcar, Bailey Gatzert Elementary, and Washington Hall.

West Elevation


East Elevation



SPECIFICATIONS


ARTIST SELECTION PROCESS
Phase 1: Request for Qualifications. Artist and artist teams are invited to submit their qualifications for consideration. A detailed list of required submission materials is listed below under "RFQ SUBMISSION MATERIALS." All submissions must be made by April 1, 2023 via email to 206zulu@gmail.com.   

Phase 2: Request for Proposals. Selected artists will prepare and submit a site specific proposal to be considered. An honorarium of $500 will be provided to each artist/artist team returning a completed proposal, which will be in addition to the all-inclusive mural budget.

PROJECT TIMELINE – 2023
| | |
| --- | --- |
| March 1 | Request for Qualifications issued |
| April 1 | Request for Qualifications due |
| April 19 | Applications reviewed and artists are selected |
| April 24 | 4 Artists / artist groups selected and notified to respond to Request for Proposals. Stipends provided |
| May 16 (evening) | Artists will participate (in person) in a community forum to collect community feedback to inform proposal |
| June 5 | Proposals from selected artists due |
| June 26  | Proposals reviewed and 4 artists / artist groups are selected |
| July 10 | Contract initiated |
| June 17 – August 25 | Mural development, coordination, and installation |
| Aug 26 | Mural reveal and community celebration |

PROJECT BUDGET
| | | |
| --- | --- | --- |
| Description | Amount | Details |
| Artist Honorarium | $2,000 | $500 each for 4 artists/artist teams |
| Artist Budget | $50,000 | $21 per sq. ft, depending on mural location for 4 artists/artist teams |
| Youth Stipends | $2,000 | $500 for 4 youth artists; 1 youth artist per team |
| Equipment and rentals | $28,000 | Ladders, boom lifts, swing stages, etc. |
| Art materials and supplies | $22,000 | Primer, paint, brushes, etc. |
PAYMENT SCHEDULE
Payments will be made directly to the artist using the following schedule:
20% will be paid upon completion of contract

20% will be paid upon approval of final draft

50% will be paid upon completion of mural

10% will be paid upon completion of maintenance plan
RFQ SUBMISSION MATERIALS
Please send a proposal to 206zulu@gmail.com addressing the following:
Current CV/resume. Teams must submit one resume/CV per team member.

Cover Letter or Letter of Interest and Approach limited to one page. Applicants should briefly describe their interest in the project and include a description of your creative vision for the project, how you plan to involve youth (or mentorship aspect) in your work, and how it connects and aligns with community values and themes in the Art Plan.

Ten (10) images max of previously completed work that demonstrates an ability to design, create, and paint large scale, outdoor murals. We suggest providing images of 3-5 different artworks with 2-3 distinctive views of each piece, including one wide shot and one detail shot of each artwork. Do not collage multiple images into one image.

Image identification list: An image identification list should be provided corresponding to the submitted images. Information should include image number, artist's name, title, year, media, dimensions, and location.

Three (3) professional references. Please include name, title, affiliation, phone number and email address.

Submission Format: Responses shall be submitted as a single PDF file.

Submit proposal via email to

206zulu@gmail.com

.

Additional Materials: Artists may include up to five (5) selections of support materials (links) such as reviews, news articles, and other related information.

Deadline: April 1, 2023 by 12:00 PM PST.
ELIGIBILITY
Artists who are over the age of 18 and located within the United States are eligible to submit their interest and qualifications. BIPOC artists with personal ties to the neighborhood and Seattle are highly encouraged to apply. Artists who have a strong professional profile, experience in producing public murals and/or have successfully worked on collaborative projects of this scale are encouraged to apply. Artist teams may also apply. Artists must be able to adhere to the project timeline.

RFQ SELECTION CRITERIA
Submissions will be scored on the following, with a maximum score of 100 points:
Artistic Excellence (35 points)

: The artist's work reflects artistic excellence, innovation, and originality as evidenced by quality of craftsmanship and mastery of skills and techniques; demonstrates professional approaches to processes and presentations; and/or communicates a unique vision or perspective

Professional Experience (30 points)

: The artist's professional experience is adequate to meet the demands of the project, including a proven ability to meet project budgets, deadlines, and to perform work in a timely and professional manner. Public art experience is required.

Experience working on a project of similar scale (20 points)

: Previous work that can specifically demonstrate the successful completion of projects that include partnering with stakeholders for the purpose of creating public art of this size and scale.

Values and Theme (15 points)

: How aligned is the artist's proposal and personal outlook reflected in the community values and ability to incorporate the themes and ideas presented.
SUBMISSION DEADLINE
All materials must be received by 12:00 PM PST on April 1, 2023. Incomplete or late submissions will not be considered.


About SCIDpda: The Seattle Chinatown International District Preservation and Development Authority (SCIDpda) is a community development organization whose mission is to preserve, promote, and develop the Seattle Chinatown International District (CID) as a vibrant community and unique ethnic neighborhood.  We have over a 45-year success record of increasing neighborhood sustainability through innovative programs and projects that balance development and preservation. 

About 206 Zulu: A non-profit organization based in Washington Hall dedicated to providing accessible spaces while serving communities through the upliftment, preservation, and celebration of Hip Hop culture.