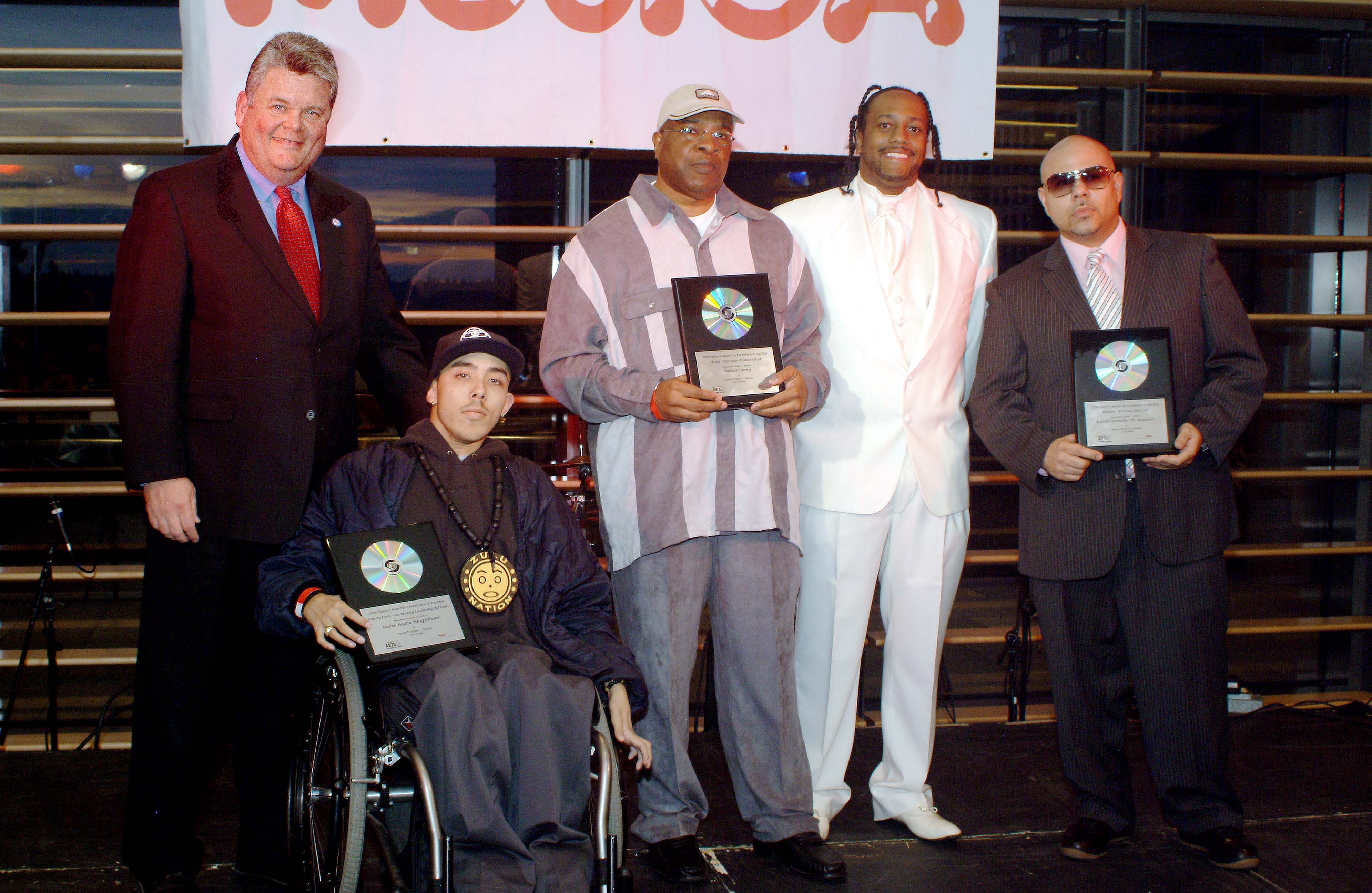 Congratulations to Mr. Supreme, Gordon Curvey, and King Khazm for their outstanding contributions in Hip Hop, receiving the 2006 Mayor's Awards for Excellence in Hip Hop! Presented by Musica Entertainment and the City of Seattle Arts and Cultural Affairs department, the 5th Annual three-day event took place this last weekend, October 5th-7th consisting of a series of panel discussions, keynote speakers, and performances.
Invited speakers and performers included Malcolm Jamal Warner (musician, poet, and writer, also formally of The Cosby Show), R&B hit group Silk, Domino, Ricardo Frazer, Greg Shaw (Interim and Thrive By Five Washington), Classico, Louise Ferguson, Jenna Arnold, Brenda Blasingame (Talaris Research Institute), Deronte' Smith, GoodyBagg, Willie Will of Ace Dynasty, Parker Brothaz, Reality Check, BriAnna Moore, Komplex Kai, Akon, and Boyz 2 Men's Shawn Stockman.
The events culminated to Saturday's award ceremony, located at City Hall, downtown Seattle, where host Tony B (radio personality and CEO of Musica Ent.) and Mayor Nickels announced the winning nominees.
"The award recipients have a remarkable track record of giving back to the community," said Nickels. "Hip Hop is an inspiration to our youth, and the award winners have shown Hip Hop can be a successful tool to keep kids off drugs, in school and out of gangs."
Mr. Supreme received an award for his contributions as a Seattle Hip Hop pioneer and deejay. The world-renowned deejay, producer, record collector (over 50,000), and entrepreneur, has traveled the world with his versatile grooves from Hip Hop to Funk to Soul to Disco to House and beyond. His production has been featured on many releases globally with high profile labels such as Sony, Wea, Om, Hed Kandy, Ubiquity, Instinct-Shadow, Conception, Light in the Attic and Eightball, along side artists such as The Roots, The Brand New Heavies, A Tribe Called Quest, Blackalicious and DJ Shadow. Mr. Supreme's selections and blends have been heard in many of the country's most reputable clubs and venues including APT (NYC), Tabu (Florida), Crobar (NYC), Deep (Los Angeles), Tao (Las Vegas), Seven (Las Vegas), Bar Rhumba (London), MJQ (Atlanta), Trinity (Seattle), Ivar (Los Angeles), Olio (Las Vegas), V Bar (Las Vegas), and Billboard (Miami). For information on events, booking, etc. log onto www.myspace.com/mrsupreme.
The next award was given to Gordon Curvey, producer and host of Music Inner City. Since 1991, Music Inner City has been a staple in the Northwest media circuit, exposing local and national Hip Hop and R&B artists to the world. Gordon Curvey has worked with and interviewed some of the industry's most influential people, such as Stevie Wonder, James Brown, Dionne Warwick, George Clinton, Al Green, Michael Jordan, Chaka Khan, Quincy Jones, the late Rick James, and Oprah Winfrey to name a few. M.I.C. TV can be viewed every Friday night within the Seattle and its surrounding regions on S.C.A.N. channel 77/29 from 10-11pm PST and Comcast's "On Demand" 24 hours a day. For information on submissions, booking, event coverage, and underwriting, contact Gordon at www.musicinnercity.com. While tuning into Music Inner City, also check out the highly acclaimed Coolout TV (2004 Mayor's Award recipient) and Hip Hop 101 TV programs that broadcast prior to M.I.C. on S.C.A.N.
The last award was given to Zulu King Khazm of the Universal Zulu Nation and MADK Productions for his outstanding achievement in Community Leadership and Activism. Khazm has contributed greatly to the Hip Hop scene and culture over the last decade as a community organizer, activist, teaching-artist, emcee, producer, visual artist/designer, and promoter. He has shared the stages with the likes of Afrika Bambaataa, Gza/Genius, Sugar Hill Gang, Grandmaster Melle Mel, Naughtly By Nature, Black Sheep, and other Hip Hop legends throughout the country. His breadth and skill as a visual artist fueled his work in graphic design, and his art installations have been featured in various album covers, flyers, art and graffiti exhibitions, one of which is currently on display at the Experience Music Project Museum in Seattle. Additionally, he produces two of Seattle's illustrious programs; Hip Hop 101 TV with co/producer Dirty Dev and the MAD Krew, as well as Zulu Radio on KBCS 91.3 FM with co-hosts/deejays WD4D and GeeTeezy. His dedication remains with the Seattle Hip Hop community, where he works to create outlets to expose the Northwest scene to the world. For more information on King Khazm's endeavors, log onto www.madkrew.com and www.206zulu.com
Once again, congratulations to Mr. Supreme, Gordon Curvey, and King Khazm for their incredible achievements and contributions to Hip Hop!!