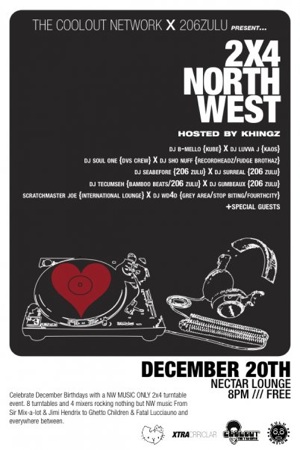 Coolout Network & 206 Zulu presents:
2X4 NORTHWEST
a kitty wu partay

Celebrate December Birthdays with a NW MUSIC ONLY 2X4 turntable event. 8 turntables and 4 mixers rocking nothing but NW music From Sir Mix-a-lot & Jimi Hendrix to Ghetto Children & Fatal Lucciauno and everywhere between.

DJ B-Mello x DJ Luvva J
DJ Soul One x DJ Sho Nuff
DJ Seabefore (206 Zulu) x DJ Surreal (206 Zulu)
DJ Tecumseh (Bamboo Beats/206 Zulu) x DJ Gumbeaux (206 Zulu)
Scratchmaster Joe (International Lounge) x DJ WD4D (Grey Area / Stop Biting / Fourthcity)
plus special guests
Hosted by Khingz

The Nectar Lounge
412 N 36th St
Seattle, WA

8pm – FREE – 21+

Also make sure check out an interview of 206 Zulu & Coolout's own Kitty Wu in the recent issue of El Diablito.com.