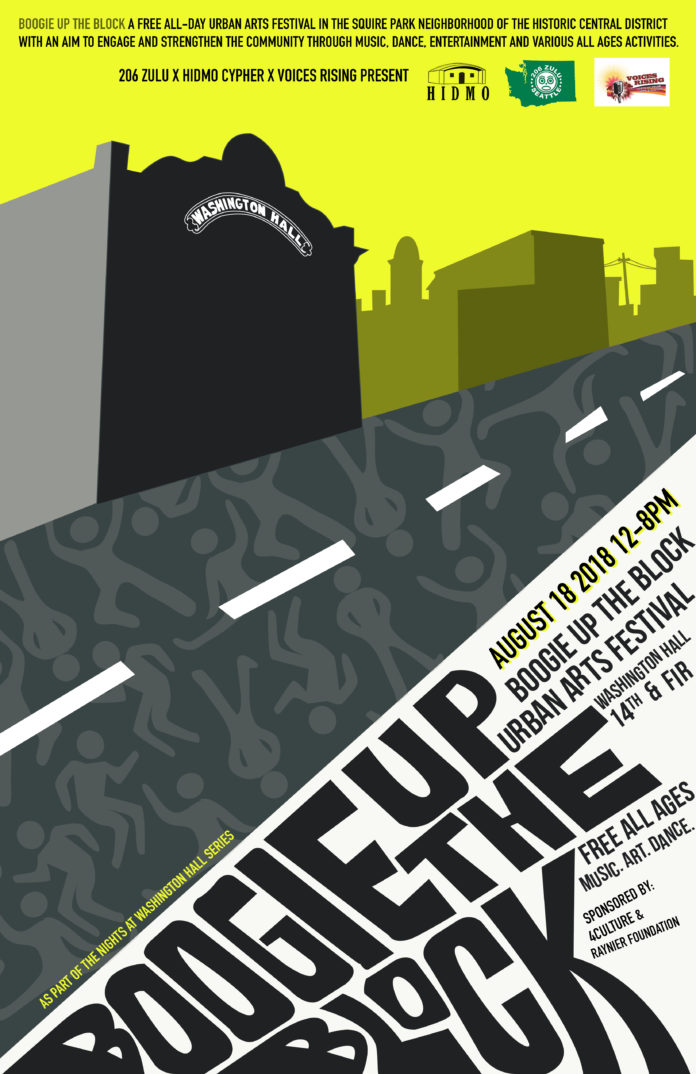 Boogie Up The Block 2018 – Saturday, August 18, 2018
206 Zulu, Hidmo Cypher & Voices Rising invite you to Boogie Up The Block, a Central District block party taking place at the historic Washington Hall! This day-long, free block party features various all ages entertainment, music, art, exhibits, food, dance, and a kids corner!
PERFORMANCES
INDIGENOUS SISTERS DRUMMERS OPENING
DJ VITAMIN D
NIKKITA OLIVER
DJ SEAN MALIK
DAKOTA
(JULIE-C, READY RON BEATS, SUNTONIO BANDANAZ)
KIDS CORNER
Bouncy Houses, Games, Activities!
OFF THE WALL MURAL COMPETITION
4-vs-4 crew battle – Cash & Prizes!
TBA
FOOD & DRINK
TBA
Location:
Washington Hall, 153 14th Ave, Seattle, WA 98122
Fir Street between 14th and 12th
Admission: Free!!
Limited parking space, come early! Take advantage of these Metro bus routes:
27 drops off and picks up at 14th & Yesler
3 and 4 drop off and pick up at 14th & Jefferson
You can also take the Seattle Street Car, get off at Yesler and 14th and walk one block North.
Artists, community groups, organizations and vendors, click HERE for more information. Deadline to apply is Monday, August 6th.
As part of the #NightsAtWashingtonHall series, sponsored by 4Cultureand Raynier Foundation!