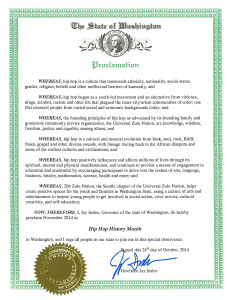 206 Zulu and Z5360 chapters of the Universal Zulu Nation would like to call upon all Washingtonians and people of the world to recognize, celebrate and help spread awareness of Hip Hop History Month this November.
As a borough of inner-city street gangs culminate to what would have been an all out war, an epic truce and new developing energy called Hip Hop would ultimately uplift an entire community and influence the rest of the world as we know it. November, 1974 is recognized by the international Hip Hop community as the time when Hip Hop culture was conceived, now 40 years ago.
Although pop "Hip Hop" icons make everyday headlines, not much is said about the originators of Hip Hop such as DJs Kool Herc, Afrika Bambaataa and Grandmaster Flash. In an age where materialism and ignorance are glorified and even perpetuated by major labels, it's no wonder why there are so many stigmas and misconceptions of Hip Hop. Even less is said about the rich and diverse Hip Hop community within the Pacific Northwest which had been thriving for over three decades.
In an effort to honor the culture, lineage and impact of Hip Hop in the Northwest, Governor Jay Inslee proclaims Hip Hop History Month in the State of Washington this November. Additional endorsements are made with proclamations by Tacoma Mayor Marilyn Strickland, Lacey Mayor Andy Ryder and Bremerton Mayor Patty Lent.
Zulu calls upon all Hip Hop enthusiasts, teachers, student groups, organizations and advocates to help spread awareness of Hip Hop History Month! Here are just a few simple ways to get involved:
– Study Hip Hop history, local history, international Hip Hop, read books, watch films
– Support local and independent artists by attending their events and buying their music
– Spread the word, distribute literature and share on social media using #HipHopHistoryMonth
– Support media outlets that stand for true-school Hip Hop
– Host a Hip Hop workshop, assembly or presentation at your school or campus
10/28 – Tacoma Mayor Strickland proclaims Hip Hop History Month, 5pm
Tacoma Municipal Building, 747 Market Street, Tacoma, WA 98402
11/1 – Hip Hop History Month Kickoff/Breakin' 30th Anniversary Screening, 1pm
EMP Museum, 325 5th Ave N, Seattle, WA 98109
11/5 – Bremerton Mayor Lent proclaims Hip Hop History Month, 5pm
Norm Dicks Government Building, 345 6th St, Bremerton, WA 98337
11/6 – Lacey Mayor Ryder proclaims Hip Hop History Month, 7pm
Council Chambers of Lacey City Hall, 420 College St SE, Lacey, WA 98509
11/28 – Zulu Jam: Hip Hop History Month Edition, 7-11pm
Washington Hall, 153 14th Ave, Seattle, WA 98122
OurStory
Hip Hop History Month Home Page