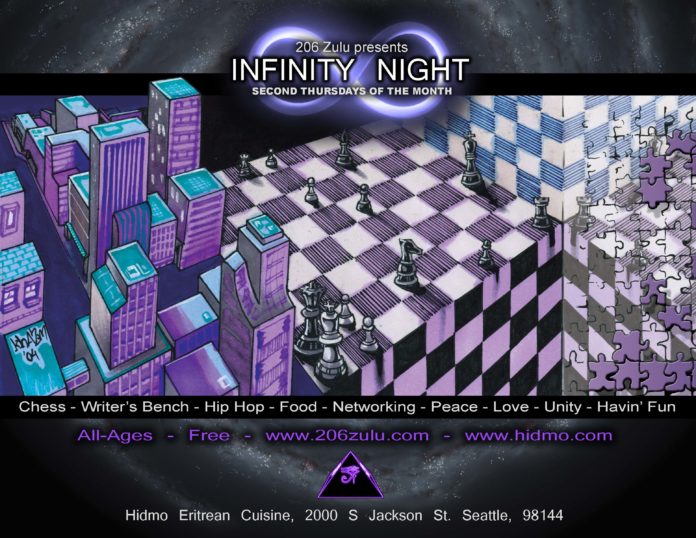 Infinity Night
Second Thursdays of the Month
Chess – Writer's Bench – Hip Hop – Eritrean Food – Networking – Peace – Love – Unity – Havin' Fun!

Thursday, July 10th, 206 Zulu, the Seattle Chapter of the Universal Zulu Nation will host the second installment of "Infinity Night" at Hidmo Eritrean Cuisine in Seattle's Central District. This free all-ages event celebrates the 5th element of Hip Hop, "Knowledge", through an evening of chess, live art, blackbook sharing, and networking. Featuring music provided by a rotating roster of Zulu DJ's, Infinity Night is stirring much conversation within the Hip Hop, chess, education and art communities.
Come participate in an evening of critical thinking and artistic expression. Continuing in the tradition of 'Peace, Love, Unity and Havin' Fun', Infinity Night will take place the second Thursdays of each month. Bring your chess sets, blackbooks, or just yourself and experience a potential of infinite possibility.

Hidmo Eritrean Cuisine
2000 S. Jackson St.
Seattle, WA 98144

9pm – Free – All Ages & 21+