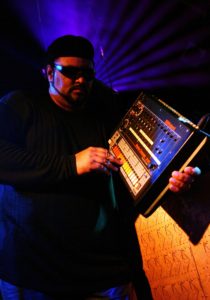 The Egyptian Lover has been bringing you that sound you have enjoyed for over 35 years. Some call it Electro, some call it Hip Hop, some call it Old School, some call it Rap, but he calls it "Dance Music". Egyptian Lover makes music to make you dance.
He started out as a DJ in 1978-79 and became the headlining DJ for Uncle Jam's Army in 1982. He has been in the music business all of his life. His first time in the studio he recorded the "Breakin' & Entering" soundtrack. A true "Electro" recording and the first of its kind.
Getting his style from Kraftwerk and enjoying the Roland TR-808 drum machine, programming it like a mad man, he loved beats and no one was making beats back then. You could only get a (bonus beat) at the end of a song on a 12″ single. So he made his own. After that he went into the studio with Uncle Jam's Army and recorded "Yes, Yes, Yes" with beats that sound like that "Breakin' & Entering" soundtrack and "Dial-a-Freak", one of his all time favourites.
The Egyptian Lover wrote all the lyrics, he said "it was easy". Because he was making rap tapes for people at his High School 1978-1981 (James Monroe in the San Fernando Valley) he was doing pretty good for himself as he was selling many tapes. The Egyptian Lover became a local celebrity.
When asked about his experiences he stated, "It was so much fun in the studio I had to go back and record some more. I booked the studio time and grabbed my notebook of raps and went to the studio to record my solo project "Beast Beats". My mother and sister read the title of my song and said, "You better not make that song, Don't play with the Devil". So I went to the studio and changed my mind and programmed the beat to "Egypt Egypt".
He did not think this song was going to be a big hit, he had just wanted a song to play at the dances while he was DJing. He wanted a song that said his name in it (he admits, "I was kinda vain").
The Egyptian Lover continued to explain what happened when he started making the beat for Egypt Egypt, "I did the music the way I had mixed other music, arranged the song like a mega mix of all the songs I had mixed at the dances and took out my notebook of raps and put together a song. It was all pieces that was mixed together. When the song was completed… I took the tape to 1580 KDAY (the local L.A. radio station) and they loved it."
After this initial success he was spurred on and went back to the studio and recorded "And My Beat Goes Boom", "What is a D.J. if He Can't Scratch?" and "The Ultimate Scratch".
When prompted to let us know what changes this brought to his life he continued, "I did not know what I was in for. I started doing concerts and having more fun than I ever dreamed. I have been all over the U.S. and thanks to all my fans all over the globe, I am still doing shows and keeping the party HOT!!! I love my job. Thank you!"
The Egyptian Lover performs live in Seattle for the first time in many years. See him mix and play his 808 like no other DJ in the World. The Original West Coast Hip Hop Pioneer and King of Electro!
Videos