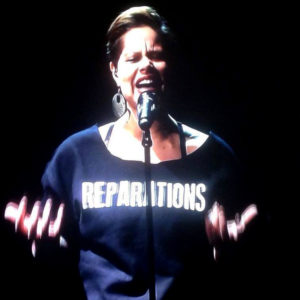 Nikkita Oliver is a Seattle-based creative, community organizer, abolitionist, educator, and attorney.
Working at the intersections of arts, law, education, and community organizingshe strives to create experiences which draw us closer to our humanity. Her work asks us to engage what we see happening now and to imagine what we hope to see in the future.
As a poet, musician and teaching artist she aims to cultivate spaces where community can explore our creative gifts and discover our personal and collective power to build the world we most need to see.
Nikkita is also a case manager for Creative Justice; a community arts project aimed at transforming the criminal legal system and providing space for young people to be self-empowered and self-determined.
She is also the co-creator with Nikki Etienne and Dj Rise of the Ringside & the Revolutionary Poets quarterly poetry slam & artist showcase.
She has opened for Cornel West and Chuck D of Public Enemy, performed on The Late Night Show with Stephen Colbert, and featured on The Breakfast Club and KUOW's The Week in Review.
Her writing and poetry has been published in the Moss, South Seattle Emerald, Crosscut, the Establishment, Last Real Indians, The Seattle Weekly, and The Stranger.
She organizes with No New Youth Jail and the Seattle Peoples Party.
Nikkita was the first political candidate of the Seattle Peoples Party running for Mayor of Seattle in 2017. The Nikkita Oliver for Mayor campaign narrowly missed the general election by approximately 1,100 votes; coming in 3rd of 21 candidates. The campaign was declared 3rd party and accepted no corporate donations. With over 1,000 the volunteers they knocked on 22,000 doors, raised $130,000 and changed the political landscape of Seattle politics.
Videos