Are you an up-and-coming or aspiring rapper, music producer, or singer? FILL OUT THE FORM BELOW TO APPLY to Beats to the Rhyme.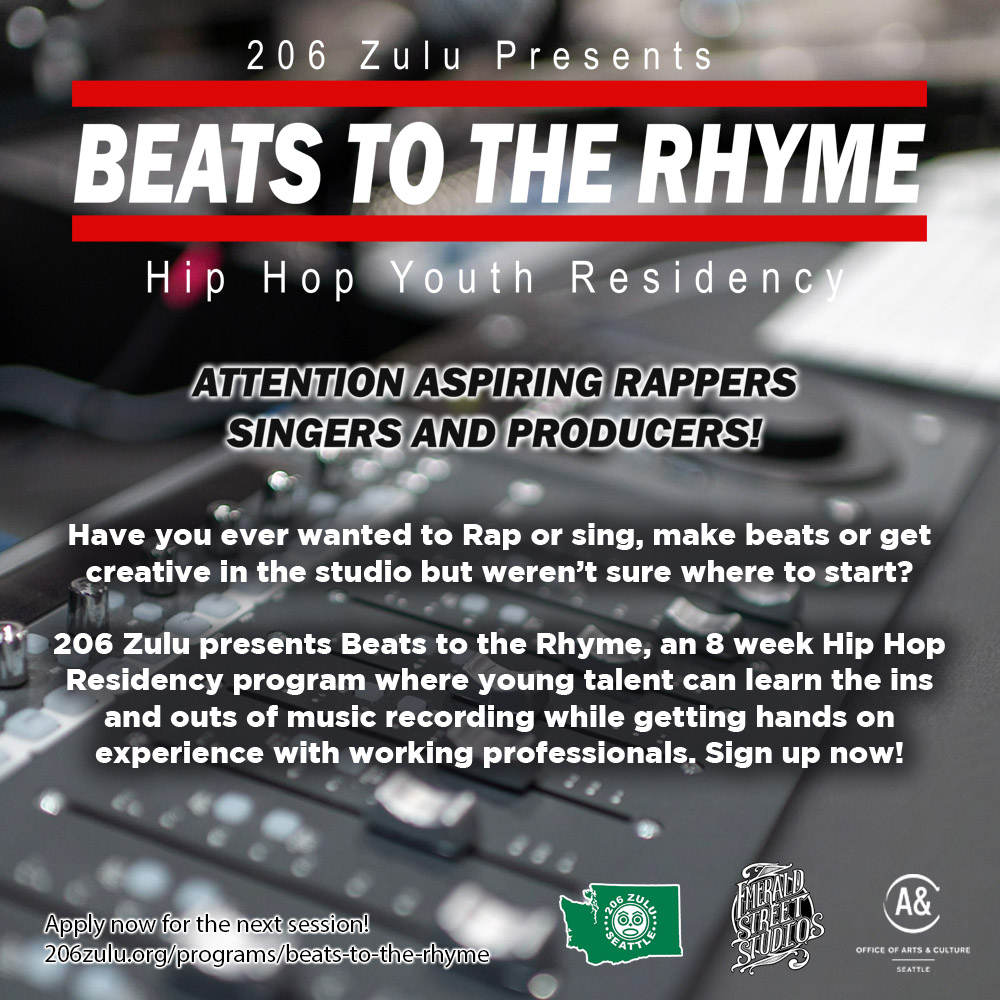 Beats to the Rhyme helps young artists tap into the power of creative expression as a tool for self-growth, professional development, and community empowerment. In a 8-week residency located in the Central District's historic Washington Hall, students have the opportunity to write, produce, and record original creative works in the state-of-the-art Emerald Street Studios.

Veteran Hip Hop teaching artists King Khazm, Beloved, Orbitron, Silas Blak, Depth175 and special guests guide the cohort through sequencing, songwriting, composition, recording and live performances. The program culminates in the production of a recorded album and music video. Participants also have many opportunities to build connections and take their work to a variety of audiences to grow their performance skills and gain important stage and event production experience.
The goals for the program are to:
* Inspire youth to pursue their musical creativity
* Provide artist development training, education and experience
* Cultivate a safe, supportive space for youth to express themselves and their individuality
* Challenge youth to think critically and nurture forward thinking
* Expand practical knowledge in marketing, promotion, multimedia, and community building
Check out some of the work Beats to the Rhyme alumni have released below!



Beats to the Rhyme – Power to the People

Beats to the Rhyme presents: Zulu Protégé EP 2017
Follow the Beats to the Rhyme Facebook Page!

OURSTORY
1.0 Zulu Protégé
2.0 Young Seattle Legends
3.0 Good Man
4.0 Power to the People