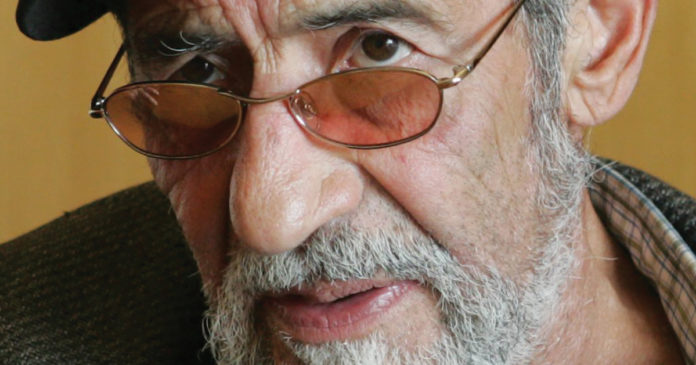 Roberto Felipe Maestas, long-time executive director and a founder of Seattle's El Centro de la Raza, passed away at approximately 6 a.m., Wednesday, September 22, 2010. He died of complications due to cancer.

Roberto was born July 9, 1938, on a subsistence plot in San Augustine del Valle de Nuestra Senora de Lourdes, New Mexico. His birthplace was a small village in a box canyon that has since been abandoned, located nine miles southeast of Las Vegas, New Mexico, and about 70 miles east of Santa Fe.

When Roberto was six months old his mother, Lina, died of tuberculosis. At about the same time his father, Francisco, disappeared. Roberto was raised by his maternal grandparents, Don Isidoro and Dona Emilia Vigil, with 16 other children.

Early in life Roberto's passion for activism was instilled in him. He sensed the manifest unfairness of being forced into the migrant stream at age 14. His memory was vivid, his family having lost their land in New Mexico. "We were pushed off our land and then we became essentially slaves in the fields", he would recall. "Putting all that together, it was clear to me that I needed to learn as much as I could about this system, its history, and its functioning."

Roberto arrived in Seattle, leaving migrant farm work in the Yakima Valley behind him, but the experience he gained as a farm-worker organizer he would later use, and use effectively. He dropped out of Cleveland High School for economic reasons and began working. His first job in Seattle was on an assembly-line, graveyard shift at Boeing, the Seattle area's dominant employer. He also worked as a gas-station attendant and at other odd jobs.

Later, Roberto enrolled at Edison Tech, now Seattle Central Community College, and completed a high-school degree. He then taught at Franklin High School while studying at the University of Washington.

In 1956, Roberto married Janet Tassin of Seattle. They had three children, Tina Maria, Angela, and Roberto Jr.

Eventually Roberto became one of the first Chicano graduates of the University of Washington. He earned Bachelor's degrees (1966) in Spanish and Journalism, and a Master's degree (1971) in Romance Languages and Literature. Recently Roberto was included in a University of Washington Alumni Association magazine as one of the University's Wondrous One Hundred.

At the University, Maestas became an activists with fellow Chicano students. They saw the value of a broader coalition and they integrated with other Black, Native American and Asian/Pacific Islander activist, including some who became his closest, lifelong friends, including (now) King County Councilman Larry Gossett, and Bob Santos, a well-known activist in the Asian/Pacific Islander community. Later they would team with the late Bernie Whitebear, a founder of the United Indians of All Tribes Foundation, and they became known affectionately in Seattle as The Four Amigos.

Having completed his Master's degree, Roberto played a major role in starting a program at South Seattle Community College to provide adult basic education and English as a Second Language (ESL). When funding for the program was eliminated in 1972, Roberto, joined by other teachers and students, summoned a cross-cultural band of supporters to an extended camp-in (occupation) at the abandoned Beacon Hill Elementary School. It is here where they negotiated (demanded) the creation of El Centro de la Raza.

Two months into the occupation of the old school, on December 10, 1972, Maestas, now divorced, married Estela Ortega, 22, of Houston, Texas, whom he met at a conference in El Paso, Texas. They exchanged vows in what is now El Centro's nationally recognized Jose Marti Child Development Center. In 1972, their altar was a musty, cellar-like room without heat or electricity, and a make-shift stage. The ceremony was conducted by a Native American Chumash elder, Semu Huaute.

Together, Roberto and Estela began their life's journey rebuilding an old school on Beacon Hill that developers wanted for a shopping mall. It looms large today as an icon known as El Centro de la Raza (the people's center).

Their commitment to El Centro, la comunidad (community), la lucha (struggle), notwithstanding, Roberto's and Estela's greatest priority and devotion was raising their two daughters, Amalia Cubana Maestas and Adriana Emilia Maestas. Both are attorneys.

On October 14, 2009, United States Congressman Jim McDermott (D-7th District), commended Roberto in The Congressional Record: Mr. Maestas has been intimately involved in the ongoing struggle for civil rights and social justice, not only for Latinos, but for all disadvantaged people. He is among Seattle's most respected figures, esteemed for his effectiveness, his political savvy, and his legendary persuasive powers.

On November 12, 2009, at the Seattle Sheraton Hotel, the Gang of Four (aka The Four Amigos) became The Fantastic Four. They were introduced by Captain America, "Fighting for truth, justice, and ˜The Seattle Way." With proclamations from the city's mayor and the state's governor recognizing Four Amigos Day, kudos rolled. Roughly 40 years had passed since The Four Amigos led civil disobedience that earned them official condemnation.

One of Roberto's favorite verses was from Walt Whitman's Leaves of Grass: This is what you should do: Love the earth and the sun and the animals, despise riches, give alms to everyone that asks, stand up for the stupid and crazy, devote your income and labor to others, hate tyrants, argue not concerning God, have patience and indulgence toward the people, take off your hat to nothing known or unknown or any man or number of men Re- examine all you have been told at school or in church or in any book, dismiss what insults your own soul, and your very flesh shall be a great poem.

Roberto stepped down as executive director of El Centro in 2009, and became an historical advisor. At the time of his passing, he was co-authoring a history of the organization with lifelong friend and companion, Bruce E. Johansen, professor of journalism at the University of Nebraska at Omaha, with whom he wrote two other books.