For the last 25 years the DMC , originally known as the "Disco Mix Club Show", has helped lay the foundation for deejaying and turntablist culture. Disc jockey veteran Tony Prince (UK) would take his internationally recognized radio show to new heights with the introduction of the DMC's, and in 1983 began to service DJ's with the first record subscription club. Shortly after the DMC would continue to break boundaries with the launch of the Mixmag publication, as well as the world's first licensed DJ-only record label. With its roots in nearly every facet of deejaying culture in Europe, the DMC would expand its influence around the globe with the debut of the annual World DJ Championships, starting in 1985. Since then, the DMC's have flourished with branches in over 40 countries, and have subsequently been responsible for catapulting many successful careers within and around the music, club, and radio industries. Today, this competition not only brings legitimacy to turntablism as a creative and viable art form, but continues to set the standard in showcasing the genre's excellence.
Yet once again the art of turntablism has slowly dwindled in the public eye. Some correlate it with corporate-owned media entities such as Clear Channel, who controls over 80 percent of the United States' radio, along with programming and creative control that the deejays once had. Another speculation is the invent of Serato, a program that enables the DJ to manipulate digital audio files using special time code vinyl records. Serato, and similar technology makes it more appealing for deejays to get into the club scene, and away from the turntablist/battle circuit.
Despite the decline in turntablism's visibility in the industry, there are many who continue to preserve and elevate the art form- such as Christie-Z of Tools of War, a Hip Hop organizer from New York City. This year Christie-Z works hard to bring the DMC World DJ Championships to new heights as she returns as the U.S. event coordinator. Two weeks ago the East Coast Finals boasted a large group of participants and audience members. Hip Hop pioneers such as DJ Disco Wiz, Rockin' Rob of the Mean Machine Crew (aka father of Flawless), Cutmaster DC (Brooklyn's in the house), and Greg Nice came to show support. Other legends including GrandWizzard Theodore (inventor of the scratch), DJ IXL, Precision, and Roc Raida participated as judges for the historic event.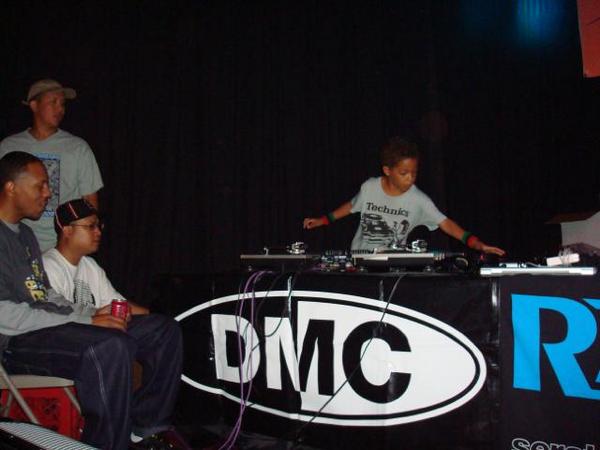 Last Friday, Christie-Z teamed up with 206 Zulu to present the DMC West Coast Finals, an evening that will remain many minds for years to come. Contestants for this year's DMC West Coast Finals were DJ's J.P. Gunnz (Chicago/Seattle), A-Kidd (Chicago/Seattle), Disciple (Portland), Hot Tub (El Paso), DJ Shu-T (Brooklyn), Tek Threat (San Mateo), Mista B (San Francisco), Einstein (Bellingham) and D187 (Riverside). Seattle veteran DJ's E-Rok, Dyce and Tre were the honored judges who evaluated the DJ's performances. From the initial 9 deejays who performed a two minute routine each, 6 advanced to the second round (Hot Tub, Shu-T, Mista B, Tek Threat, A-Kidd and J.P. Gunnz), and 4 were chosen to advance to the 2008 DMC USA Finals this coming August 30th in New York City. The four DJ's to advance are Mista B of 4oneFunk (1st place), A Kidd (2nd place), Tek Threat (3rd place), and J.P. Gunnz (4th place).


Aside from the incredible talent that was displayed, no one was ready to bare witness to a 7 year-old boy named DJ A-Kidd who seamlessly mixed, juggled and scratched his way to second place! His proud father, DJ J.P. Gunnz will also accompany him during his trip to New York as the forth place winner! A first of a kind and a true moment in Hip Hop history! This coming September 26th and 27th the DMC World DJ Championship will take place in England- Log onto www.myspace.com/dmcusa and www.dmcworld.com to find out who takes the title of World Champion!
Special thanks to the event sponsors: Rane, Technics, Ortofon, Remix, Jones Soda, and Seattle Drum School. Thanks to Christie-Z, KazFury, DJ Gumbeaux, Michelle, and DJ Seabefore for making the event smooth. Thanks to Orbitron and the Freshest Kids for the ill emcee and breaking performances!
Friday, August 8, 2008
206 Zulu presents
The 2008 DMC 
WEST COAST FINALS
7:30pm. All Ages. Presale: $6 or $5 w/club card. Door: $10 or $9 w/club card. Presale ticket will be available at www.ticketweb.com
@ The Vera Project  Republic & Warren Ave N. Seattle, WA 98109
DJs register before Aug 1st  email: usa@dmcworld.com
Christie Z-Pabon: DMC US Event Coordinator
www.myspace.com/dmcusa  www.dmcdjchamps.com  www.206zulu.com
Featuring performances by:
Orbitron (Circle of Fire)
The Freshest Kids (B-boy Crew)
Hosted by DJ Waystylez
Judges: DJ Dyce, DJ E-Rok, DJ Tre
The champion of this battle will win Serato Scratch Live plus roundtrip airfare and hotel in NYC to battle in the 2008 DMC USA Finals on Aug. 30 at The Knitting Factory
OurStory