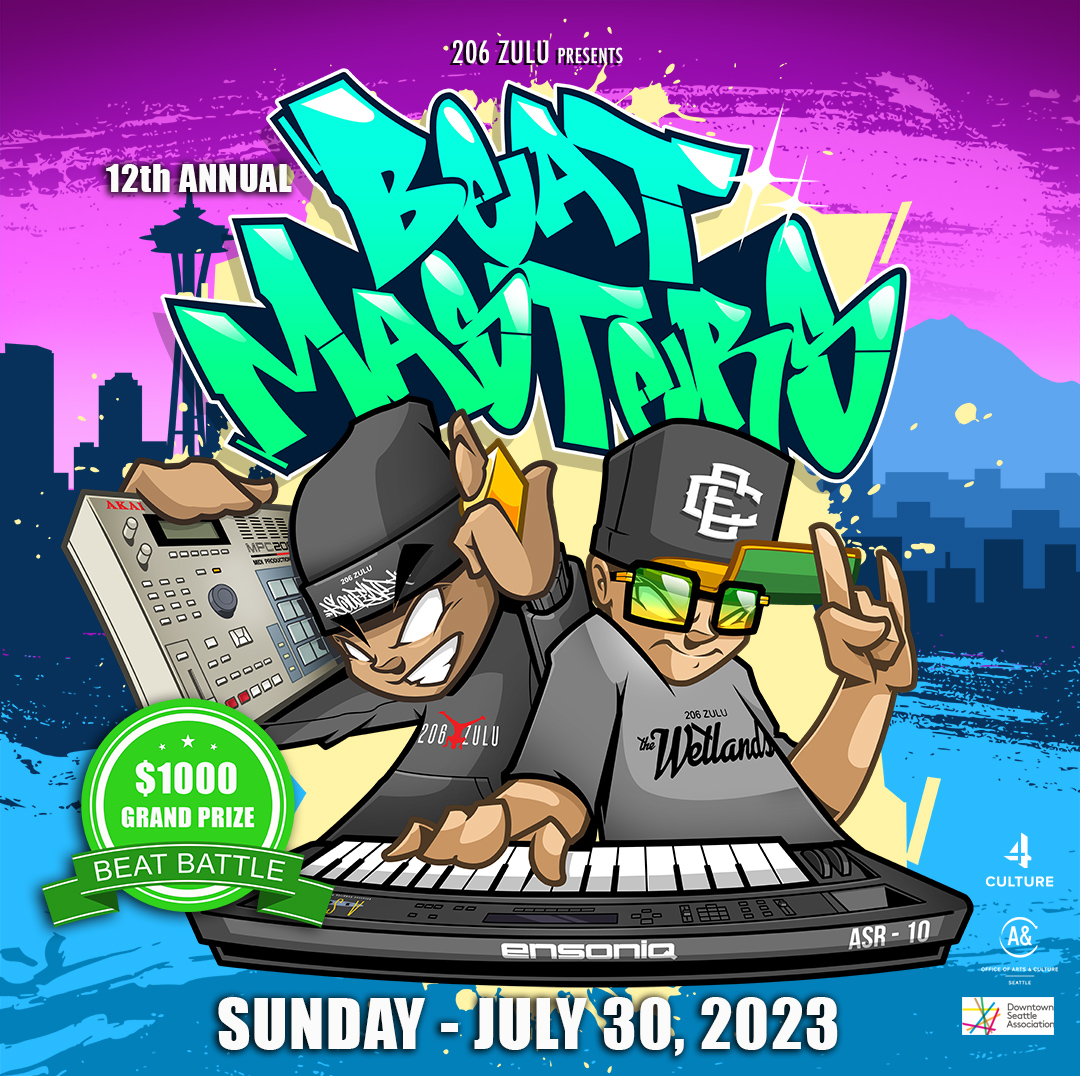 The 12th Annual Beat Masters at Westlake Park, Seattle was amazing! Thank you to everyone who participated to make it a success. Click here for the video recap and stay tuned for the 13th annual Beat Masters announcements coming Spring 2024!

ABOUT BEAT MASTERS
Originally known as Zulu Jam Producer's Edition which began in 2012, Beat Masters emerged as 206 Zulu's flagship annual Hip Hop producers event. While Beat Masters is centered around the highly anticipated open format head-to-head tournament, the event often includes special producer showcases, workshops, panel discussions and a range of additional supplemental programming.
Beat Masters carries a continuing mission to:
Raise awareness that beat making/production is an authentic and viable aspect of Hip Hop culture.
Advocate for and establish spaces in Seattle where producers and aspiring producers can be in a supportive environment that spotlights not just the performing artist, but the often unrecognized art and craft of production.
Dispel the negative connotations that Rap/Hip Hop music has through education and awareness.
Showcase the Northwest region's diverse range of talent.

OURSTORY
12th Annual Beat Masters 2023 – Brainstorm
11th Annual Beat Masters 2022 Recap – Brainstorm
10th Annual Beat Masters 2021 Recap – Deli
9th Annual Beat Masters 2020 Recap – Agent M
8th Annual Beat Masters 2019 Recap – Deli
7th Annual Beat Masters 2018 Recap – NajaesBeats
6th Annual Beat Masters 2017 Recap – Brainstorm
5th Annual Beat Masters 2016 Recap – Deli
4th Annual Beat Masters 2015 Recap – Jamie Blake
3rd Annual Zulu Jam Producers Edition 2014 Recap – Grimeshine
2nd Annual Zulu Jam Producers Edition 2013 Recap – Key
1st Annual Zulu Jam Producers Edition 2012 Recap – Key