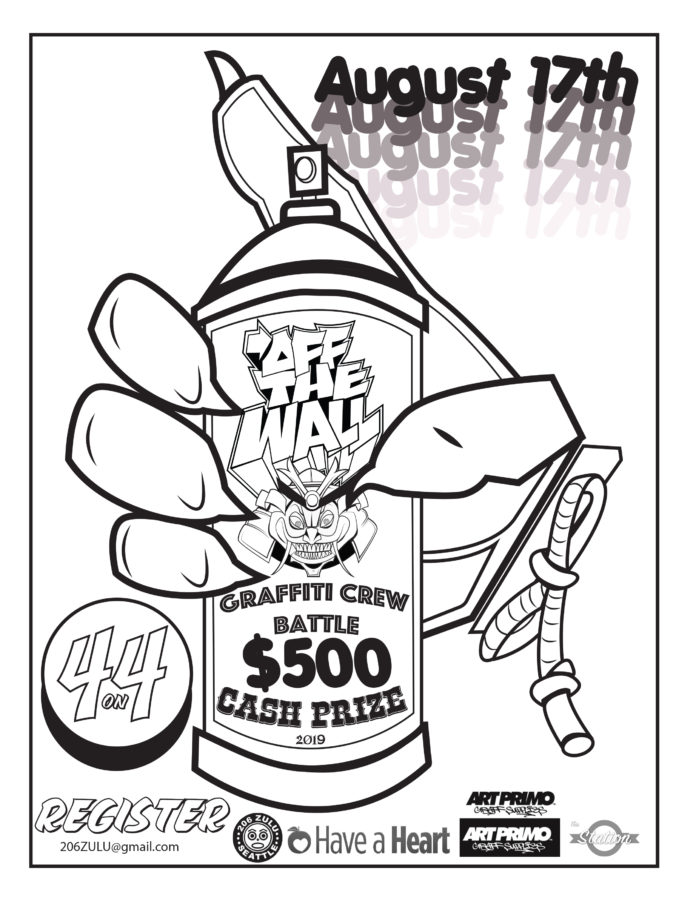 Thank you everyone who participated and made Off The Wall 2019 a success! To see so many artists come together and create and vibe as a community was an incredible thing.
Congratulations to KT who took 1st place, Humble Ones who took 2nd, TCU who took 3rd and BAM who took 4th runner up!
Shout out to all the crews that came to represent! RNU, AUB, TCU, KT, DWA, MUA, BAM, Humble Ones, BWA & Co., 2CAN and Battle Reflexes. Biggup to DJs Clark da Spark, DJ Benny Audeos, Smerk, Luvva J Profresha, EarDrumz and Nathan Thirdeyebling Ard and One Be Lo for the ill beat sets.
Special thanks to King County Records & Archives and Seattle Chinatown International District Preservation and Development Authority for providing the space, ArtPrimo.com, Have a Heart, and The Station for sponsoring the event. Thanks Charms Won, Kitty Wu, Lauren Olkus, Valious Clark, Dozer Art, Graves Hansen, Kazuo Oki, Charles, Colleen Pele' Ross-Washington, James Burchfield, @GraffHeadIG and everyone who helped to make this event so special!
Crews:
RNU, AUB, TCU, KT, DWA, MUA, BAM, Humble Ones, BWA & Co., 2CAN, Battle Reflexes

Off The Wall 2019 Champion: 
KT
Judges:
Graves, Dozer, Charms Won