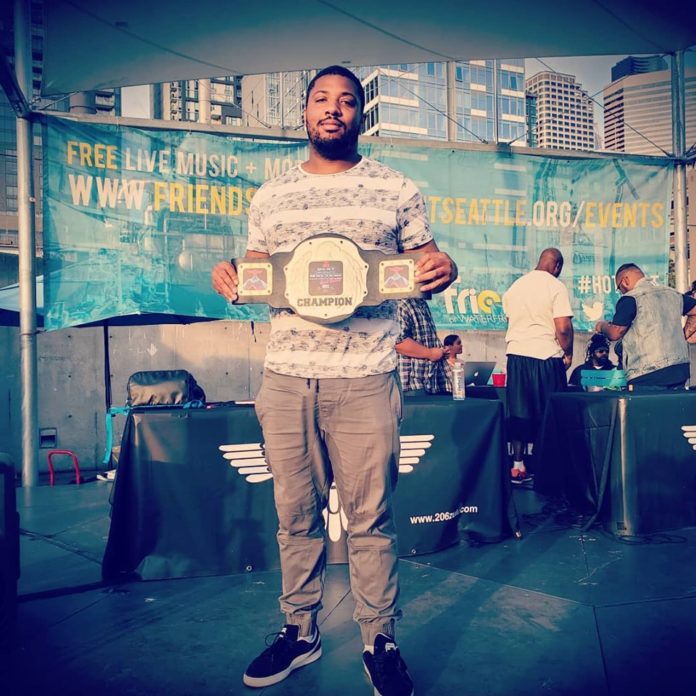 206 Zulu + Friends of Waterfront Seattle present:
8th ANNUAL BEAT MASTERS BEAT BATTLE

Saturday, July 13, 2019 (3:00pm-8:00pm)

$1,000 GRAND PRIZE BEAT BATTLE
Host: Fort Knox
Deejay: DJ Neebor
Judges: Topspin, Will Jordan, Wizdumb
Performance by: Orbitron

3pm – 5pm: Producers Showcase bt Filthy Fingers United and Wizdumb
5pm – 7:30pm: Beat Battles
7:30 – 8:00pm: Beat Cypher – Open to any beatmakers, bring beats on a portable media player with a 1/8″ output. (such as iPod, laptop, tablet, mp3 player, etc)
Waterfront Park Pier 58
1401 Alaskan Way
Seattle, WA 98101
2019 RECAP:
2019 Competitors
Leviticus Black, Arkangelo, Agent M, Luecapelli, Pittsoul, MarcuCertified, Wize Beatz, Reil, Deli, Damon Dahl, LOWSH, Najaesbeats, Nickels Hawkeye, UNKWN, Brainstorm, Rocky Glover, OneManArmy, Boom Box.

After the preliminaries these were the top 8 going head to head
First Round
#1 Najaesbeats (defending champion) vs #8 Agent M.
Winner: Najaesbeats
#2 Boombox Massacre vs #7 Pittsoul.
Winner: Boombox Massacre
#3 Deli vs #6 Brainstorm
Winner: Deli
#4 UNKWN vs #5 Damon Dahl
Winner: UNKWN
Semi Finals
Najaesbeats vs UNKWN
Winner: Najaesbeats
Deli vs Boombox Massacre
Winner: Deli
Finals
Najaesbeats (2018 Champion) vs Deli (2016 Champion)
Winner: Deli
Congratulations to Deli, becoming a two time champion!
Thank you to:
– Friends of Waterfront Seattle and 4Culture for sponsoring the event.
– The Zulus for volunteering their time to make this event possible. 
– Everyone that came to the event to support Hip Hop and our great community of producers.
Links
Beat Masters Home Page
Beat Masters 2019 Facebook Event Page
7th Annual Beat Masters 2018 Recap – NajaesBeats
6th Annual Beat Masters 2017 Recap – Brainstorm
5th Annual Beat Masters 2016 Recap – Deli
4th Annual Beat Masters 2015 Recap – Jamie Blake
3rd Annual Zulu Jam Producers Edition 2014 Recap – Grimeshine
2nd Annual Zulu Jam Producers Edition 2013 Recap – Key
1st Annual Zulu Jam Producers Edition 2012 Recap – Key