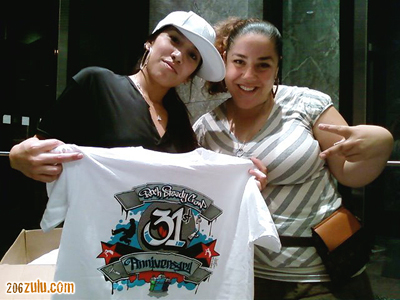 By BeLoved 1
July 24-27th, 2008

This year's Rock Steady Anniversary felt like the year of the B-Girl, with strength in numbers, and long over-due recognition. Who would believe that the Legendary Rock Steady Crew is 31 years old? Founded in 1977 by pioneering New York breakers, the Rock Steady Crew were some of the first b-boys to blow up and tour the world, officially putting "Breakdancing" on the global map. Every year their Anniversay is celebrated as only hip hop can celebrate- with jams and battles. I had the good fortune of accompanying B-girl Bean and B-girl Naj of Seattle's own Fraggle Rock Crew to witness and partake in the 2008 festivities. Although not as well-attended as last year's landmark 30th Anniversary, this year's 31st celebration was definitely a weekend to remember. The 5-on-5 crew battle was in full swing at Grand Hall in NYC's famous SOHO district, with the 206's own DJ DV One on the one's and two's for the entire six-hour event. The ladies definitely represented, comprising a full crew, and coming out full-throttle. B-Girl Bean and B-Girl Naj of Fraggle Rock Crew battled with Jess Rock from Ohio, Lady J of the Mighty Zulu Queens, and an Arizona B-Girl. A-B-Girl of Domestic Apes won this year's well-respected "Spy Award." 
Also included in the Anniversary festivities was a free, outdoor festival including hip hop pioneers and architects. This year included the likes of the Artifacts, Marley Marl, Diggin In The Crates Crew, Craig G, KRS-One, the great Bahamadia (yes, Bahamadia), and Fat Joe. Concert-goers could buy a Barack Obama T-shirt and a plate of soul food while absorbing the sounds of true hip hop legends. The highlights of the show were a 3-minute accapella spit by Bahamadia including hot-like-fire delivery never before heard from this jazzy, butta-soft vocalist. She also tore apart the freestyle cypher with her quick wit and social commentary. (Bahamadia's recent album "Good Rap Music" has been released only in Europe, but can be purchased as an import, and features a harder Bahamadia than we've previously heard). Fat Joe held it down, spitting songs from the old school and new school, keeping it real, and advising those who only knew him from "Lean Back" to "get the f*%! out." Rock Steady Crew of course performed an outstanding showcase featuring 19 members on stage, including Seattle's own B-Boy Fever. All artists performed strictly for the love of Hip Hop, free of charge and without compensation.


DJ Evil Dee of Black Moon could be found spinning at the Rock Steady after party that evening. Underground celebrities like Sway, Tony Touch, and Popmaster Fabel came through to get down and spread love, while b-boys and girls did their thing in the cypher. The entire Rock Steady Anniversary was dedicated to the loving memory of well-loved hip hop pioneer, Frosty Freeze, who passed earlier this year.