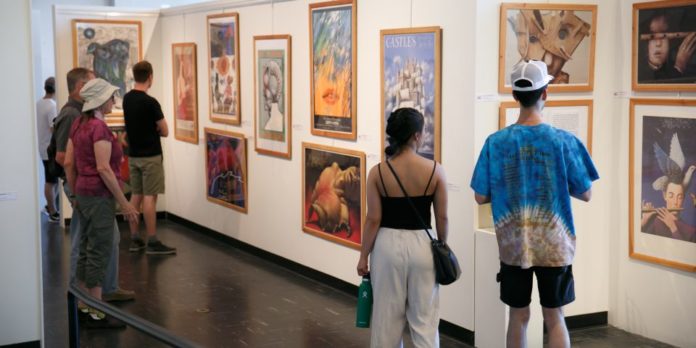 Presented by Northwest Folklife & The Vera Project
As part of the 48th Annual Northwest Folklife Festival and the 2019 Cultural Focus, Youth Rising we are looking to showcase the talent of regional youth artists between the ages of 13-18. The 2019 Cultural Focus, Youth Rising, is a yearlong program dedicated to youth-focused and youth-led cultural activities, many of which will be highlighted at the Northwest Folklife Festival.
Youth Rising is a year-long series featuring mentorship programs, youth residency projects, and a collection of youth-organized performances and events highlighted at the 48th annual Northwest Folklife Festival (May 24 – 27, 2019). Youth Rising is a platform for the voices of youth leaders, artists, musicians, and changemakers.
As folk is "for the people, by the people," this Cultural Focus program will be curated "for and by the youth."
The Folklife Committee and Ver(a)rt Gallery Committee will select artwork based on skill, composition, and originality. Guidelines are outlined below.
This exhibition will be juried in two rounds. First will be by the Northwest Folklife Committee, Ver(a) Gallery Committee, and the second will be by their chair: Andrew Walsh, Gallery Committee Chair; Anna Buxton, Programs Coordinator of Northwest Folklife.
Who: Northwest Folklife & The Vera Project
What: Arts Exhibition: YOUTH RISING
Where: Vera Project Art Gallery
When: May 24-27, 2019
Why: An opportunity to showcase your interests and abilities as youth artists. Make your voice heard!
Cost: No Entry Fee!
Submission Guidelines
Thematic content is open-ended, but may not go against values of Northwest Folklife and Vera Project; Get creative!
Artwork must be ready to hang (including framing, if necessary)
All artwork must have a name, phone number, age, and title on back.
2D artwork strongly encouraged;
40" x 60" and under strongly encouraged;
Flat/thin artwork preferred. (Recommended: Artwork that is less than a foot deep.)
Artwork produced within the last year;
The public, as well as Northwest Folklife and The Vera Project, can photograph all submitted artwork in relation to the promotion of the festival.
Note: General festival security will present over the weekend, but there will be no special security for the art gallery. By submitting to this exhibition, artists and/or their parent's acknowledge that artwork will not be insured while in the possession of Northwest Folklife and The Vera Project.
Deadlines:
Call is open until April 1st, 2019
Artists will be notified by May 1, 2019
Artwork must be dropped off between May 13-21st, location TBD; Most likely Seattle Center
Artwork will be on display from May 24-27, 2019
Artwork must be picked up between May 28-June 7th. Location TBD.
Special exceptions may be made on a case-by-case basis if coordinated with Anna Buxton and Andrew Walsh in advance.
Submittal Process:
Please include the following in an email to: verafolklifeart@gmail.com
Full Name
Age
Location
Title of Artwork
Year Created
Medium
Please submit one image (JPEG, TIFF) per artwork
Two artwork submissions allowed per artist
Note: All artwork should be ready to hang; this means framed, if applicable.
For more information visit: https://www.nwfolklife.org/youthrisingart/
---
Northwest Folklife is an independent 501(c)(3) arts organization that celebrates the multigenerational arts, cultures, and traditions of a global Pacific Northwest. For over 47 years, Northwest Folklife has been deeply committed to celebrating the diversity of our Northwest communities and de-mystifying our differences together, under one roof. Northwest Folklife believes that arts and culture strengthen our communities and should be accessible for all. Our year-round programming is produced in collaboration with over 120 different cultural partners and powered by contributions from the community, corporations, foundations, and the public sector. nwfolklife.org
The Vera Project is an all-ages volunteer-fueled music and arts venue. By engaging participants at all levels of music production and community organizing, Vera fulfills its mission to foster a participatory creative culture through popular music concerts, arts programs, experiential learning and volunteer opportunities for all ages, especially young people. Vera's programs are always all ages, with a focus on young people ages 14 to 24.