206 Zulu Halloween Jam with Abstract Rude, Myka9 & Moka Only
October 31, 2017 @ 1:30 PM

-

4:00 PM

$12 – $15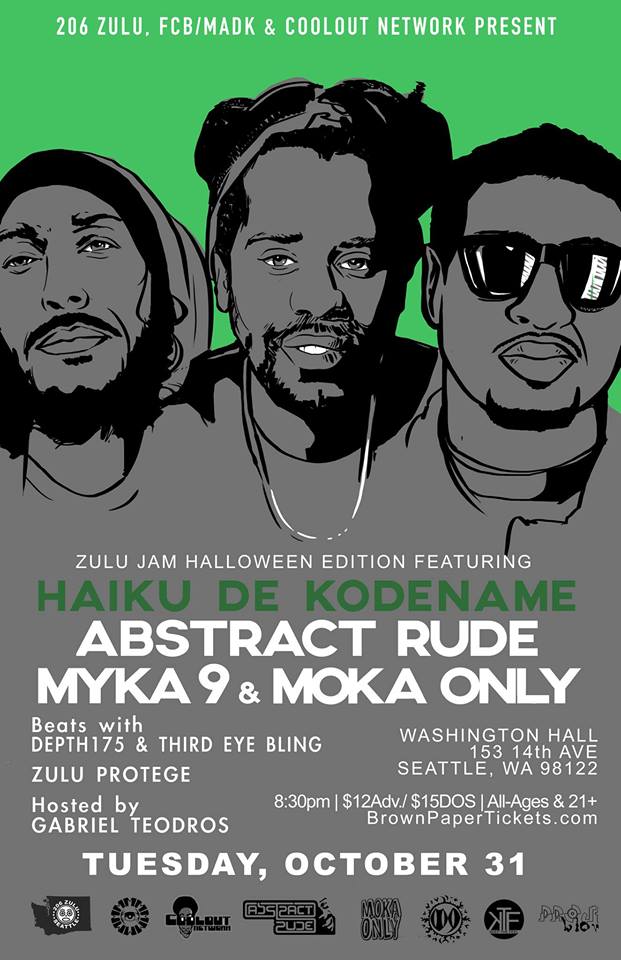 Zulu Jam Halloween Edition featuring
HAIKU DE KODENAME TOUR w/
ABSTRACT RUDE
MYKA 9
MOKA ONLY
Also:
Depth175 Music
Third Eye Bling
Beats to the Rhyme / Zulu Protégé
Hosted by Gabriel Teodros

Presented by 206 Zulu, FCB/MADK & Coolout Network
Washington Hall, 153 14th Ave, Seattle, WA 98122
8:30pm | $12 Adv. / $15 DOS | All-Ages & 21+
http://www.brownpapertickets.com/event/3091979
This summer two different "Best Of…" lps were released under the Keep The Feel Ent. imprint via Alphapup Distribution. HAIKU DE THEATRE: the best of Haiku, and KODENAME SKORPIUS: the best of CNS. In addition, all 3 artists have new solo lps & collabs just recently released. Abstract Rude's THE OWL'S CRY w/DJ Vadim is out now on KTF Ent., Myka 9's TELEPORTED w/Freematik, and Moka Only's CONCERT FOR ONE out now on Urbnet.
Myka 9 is a founding member of the legendary Freestyle Fellowship rap group, and Abstract Rude is the MC & founding member of Abstract Tribe Unique. Both groups were staples of Los Angeles' famed Good Life Cafe open mic sessions as documented in the Ava Duvernay directed film THIS IS THE LIFE. Both groups (FF & ATU) were also once signed to major labels, surviving a wild & crazy ride through the music industry to becoming OG independent LA hip-hop heroes of today. Ab Rude & Myka 9 combine to form Haiku d'etat along with FF's Aceyalone (releasing Haiku De Tat in 2000 & Coup De Theatre in 2004 on Project Blowed Recordings), and they even released an AyeM Ray-DIO lp out now on Keep The Feel Ent.
https://itunes.apple.com/us/album/ayem-ray-dio/id1261095557
Moka Only is an award winning Canadian rapper/producer and former member of the legendary Swollen Members. His bars & voice rapped & sang on most of their platinum selling albums. From skating to rhymin & making beats, Moka has released several solo lps, toured worldwide, survived & thrived over two decades of helping to put BC hip-hop on the map. Moka Only & Abstract Rude combined in 2000 to release the Code Name Scorpion lp (on Battleaxe) along with Prevail of Swollen Members. Visit urbnet.com/mokaonly
mokaonly.net for more info.
This tour concert will feature solo sets & encore collabs of group classics.
Support from KTF Ent's B. Squid & DJ Bennishoes on the wheels.