August Greene (Common, Robert Glasper, Karriem Riggins)
November 14, 2018 @ 12:00 PM

-

3:00 PM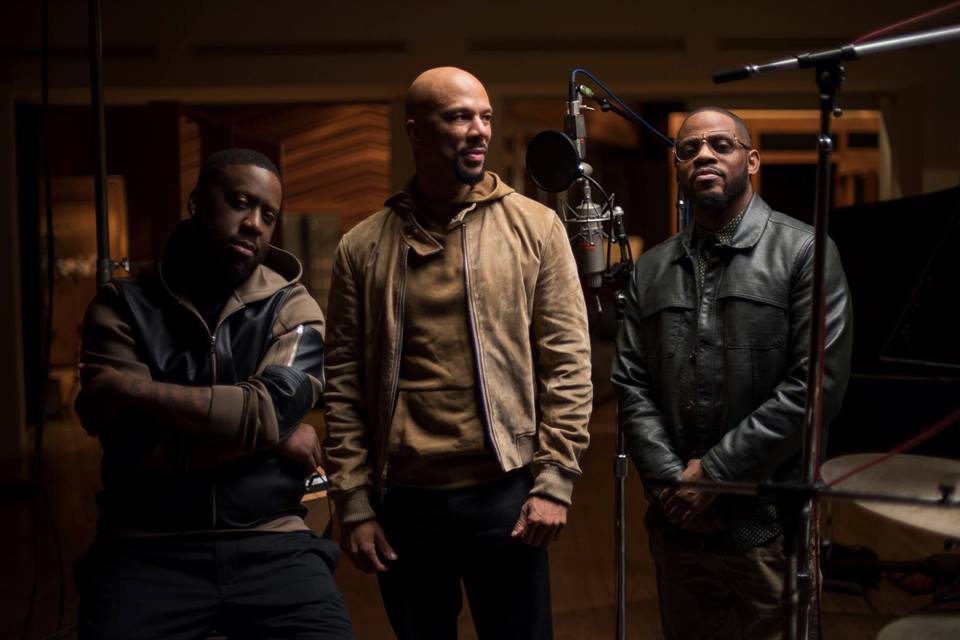 STG Presents August Greene (Common, Robert Glasper, Karriem Riggins) at The Paramount Theatre on Wednesday, November 14, 2018.
On sale Friday, July 20th at 10 am.
General Admission Flat Floor
General Admission Seated Balcony
All Ages / Bar with I.D.
Tickets are $45.00 (not including fees).
On sale Friday, July 20th at 10 am!
In early 2016, musicians Common, Robert Glasper and Karriem Riggins found themselves in the studio, crafting the soulful backdrop of Common's 11th album, the politically charged Black America Again . The three friends had known each other since the late 1990s, so the camaraderie felt organic. "It was such a real form of expression," says Common, who's earned three GRAMMYs, an Oscar, a Golden Globe and an Emmy. "It felt natural. We all have an affinity for great music." As the trio created, they began to notice something different taking shape—something rooted in the warm R&B sounds of yesteryear but still very much in the present. It was soul music with a modern bounce, a jazz-rap hybrid in the spirit of A Tribe Called Quest. It fully encapsulated the black experience: the serenity and pain through which we channel gorgeous art, the beauty and struggle of simply trying to exist. Equally peaceful and profound, the music they captured laid the foundation for August Greene, the newly formed supergroup of Common, Glasper and Riggins.
The artists come to this project having reached great respective milestones over the years. Since 1992, the Chicago-born Common has uplifted listeners with his emotive blend of hip-hop and soul, releasing some of the genre's greatest work, including 1994's underground breakthrough Resurrection (featuring the classic "I Used to Love H.E.R.") and 2000's Like Water for Chocolate (a magnum opus featuring the GRAMMY-nominated single, "The Light"). In recent years, Common has turned his attention to the silver screen, appearing in high-profile films like Smokin Aces (2006), American Gangster (2007), Selma (2014), Suicide Squad (2016) and John Wick: Chapter 2 (2017). In 2015, his track "Glory"—the official theme of Selma —won the Oscar, Golden Globe, and GRAMMY for Best Original Song.
Glasper, a Houston-born pianist known for his esoteric mix of jazz, rock and soul, has long created music that defies expectation. Across various albums—including 2005's Canvas , 2007's In My Element and 2009's Double Booked —Glasper has occupied his own space in black music, straddling the line between mainstream and underground, gathering his own accolades along the way. In 2012, the musician's Black Radio —a massive collaborative effort featuring Erykah Badu, Bilal, Lalah Hathaway and Musiq Soulchild, among others—won the GRAMMY for Best R&B Album. Two years later, Glasper's "Jesus Children"—a remake of Stevie Wonder's 1973 cut of the same name, featuring Hathaway and poet-actor Malcolm-Jamal Warner—won the GRAMMY for Best Traditional R&B Performance. Then in 2016, Glasper's score for director Don Cheadle's Miles Ahead won the GRAMMY for Best Compilation Soundtrack for Visual Media.
Riggins, a Detroit native, is a world renowned percussionist and producer whose work can be heard on Kanye West's The Life of Pablo , Kaytranada's 99.9% , and Esperanza Spalding's shape-shifting Emily's D+Evolution, among many other albums. As a beatmaker, Riggins pivots between wistful soul and gritty drum breaks, giving ample room for his featured artists to shine. In 2017, Riggins, Glasper and Common earned an award together; their "Letter to the Free" (from director Ava DuVernay's 13th documentary) won the Emmy for Outstanding Original Music and Lyrics.
Featuring Brandy on a remake of Sounds of Blackness song "Optimistic," with bassist Burniss Travis and film score composer Samora Pinderhughes, August Greene culminates years of mutual respect and friendship, channeling the musicians' various talents into a cohesive project. The perfect marriage of jazz, hip-hop and soul, it's music that just is.
This is black expression the way God intended: earnest, unfiltered, and harmonious. Throughout August Greene, you feel the abundance of Glasper's rolling keys, the sheer honesty of Com's lyrics, and the nuanced subtlety of Riggins' drum work. It's a fluid sound that's sorely needed in today's landscape, and a teachable moment for the next wave of creators . "I feel like we need to set the bar for this generation of musicians and producers," Riggins says. "There's a lot of computer-driven music. This is the opposite of that. We're showing you can still use your creative muscle on an instrument to generate your own sound."
August Greene is a meditative offering that stands tall against the era of "fake news." "They body snatching black girls in D.C. / Politics and propaganda on the TV," Common observes on the opening track. On "Nirvana," the lyricist uses a stuttering percussive loop and faint piano chords to search his inner being: "Thought I was gonna fly when Obama became the king … when it's all done, will I have heaven's dress code, and been able to let God and let go." As Com puts it, Glasper and Riggins' soundtrack allowed him to open up in ways he hadn't done previously. Like on "Fly Away," for instance, where he riffs on the public relationships he's had. Other songs, like "Black Kennedy," feel spacious and scenic.
"I got to go new places with the music, and it didn't have to fit within a genre for me to participate on it," he says. "This gave me an experience I haven't had in a long time, so I want people to feel that. I want this to be a cleansing of whatever doesn't feel good or inspiring."
In the end, August Greene speaks to those pushing through the dark for brighter days. It's a masterpiece from which virtue can shine. "I want people to go on the ride and be open," Glasper says. "We just created and it became a sound. I want people to approach this with an open mind and without expectations."
— Marcus J. Moore