"Elevators Ep.1" – a Big World Breaks and Vinyl Sound production
December 23, 2022 @ 8:30 PM

-

11:30 PM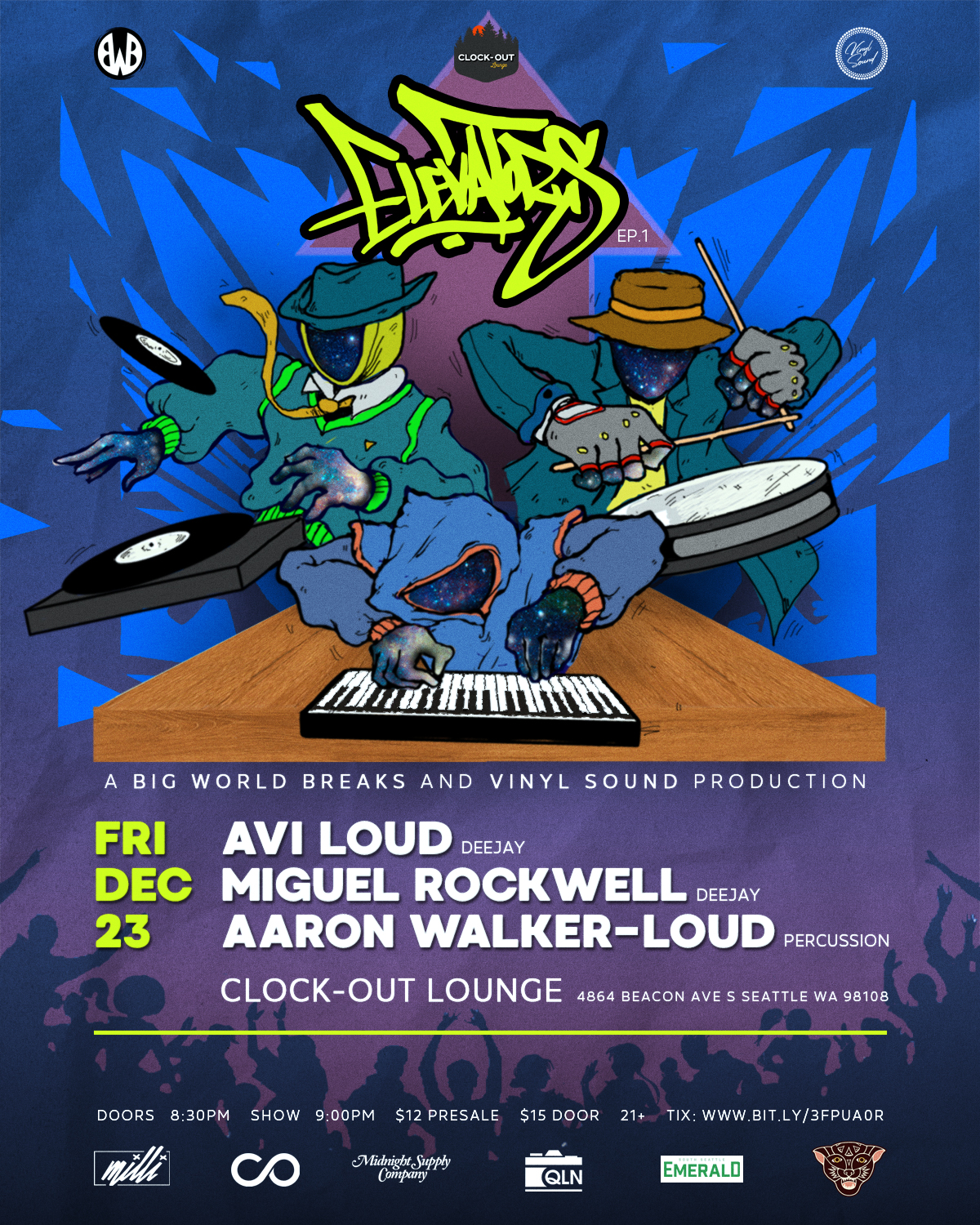 On the evening of Friday December 23rd, 2022, a new movement will be born: "Elevators Ep. 1" – a Big World Breaks and Vinyl Sound production. The featured artists will be Avi Loud (deejay), Miguel Rockwell (deejay) and Aaron Walker-Loud (percussion); and the historic occasion will be hosted at Clock-Out Lounge. Elevators explores the familial relationship and conversation between sound and movement.
Doors @ 8:30pm | Show @ 9:00pm
21+ | $12 adv. / $15
Sponsored by: Milli, Converge Media, Midnight Supply Company,
South Seattle Emerald, Quang Nguyen and Musang
Avi Loud is a multidisciplinary artist born and raised in Seattle, now living in LA. Coming from a musical family, his passions for music and artistry are natural and undeniable. Responding to a void of underground music and alternative spaces in the nightlife in Seattle, he co-founded the Prototype Sessions collective in 2016, which produced pop-up shops and unique dance/art parties at Kremwerk / Q Nightclub (Seattle) and the Ace Hotel (LA). In 2019 Avi went on to throw his own events: Joogie Nights – a multi-genre dance party, spawning Heck World Radio – a live-streamed house party, along with the release of his first EP "The Joog Knight". In 2021 he released 2 projects, "Flower Chased The Sunshine" (a footwork heavy EP) / "Realmfest" (an album tribute to various underground dance music styles); his mixes having been featured on KEXP, Worldwide FM and C89.5 FM in Seattle,
Boxout.fm
(India) and NTS & Dublab (LA). Avi's "Breezy" (from 2nd EP) was featured as KEXP's Song of The Day in 2021. He is also a member of the Houseparty Seattle collective, a group of DJs and producers from the PNW.
http://www.aviloud.com
Miguel Rockwell is a veteran of Seattle's thriving music scene. As a longtime MC and DJ he has a vast knowledge of Classic Soul, Hip-Hop and R&B music while always maintaining a grasp on current sounds to keep the dance floor movin' no matter the crowd or type of venue. Miguel began B-boying at age 5 and started rhyming in 1988. Born and raised in Seattle, Rockwell is known as one third of the group "Clockwork" for his rapid-fire delivery and blend of amusing one-liners infused with pop culture references. As a founding member of "The Milkmen DJs" he strives to bring a diverse flow of genres and styles to the music scene every time he's rocking a party. With an ever-present focus on "schooling" listeners through a mix of classic joints, throwback vibes and cutting-edge bangers, Rockwell is proud to be an innovator among DJs today.
http://www.miguelrockwell.com/
|
https://www.facebook.com/themilkmen206
Aaron Walker-Loud is an artist, band director, composer, producer and educator. He is the founder and director of Big World Breaks, a production company built for performance, studio and education, that has shared stages with Janelle Monáe, Kool DJ Red Alert, Digable Planets, DJ Qbert, Macklemore, Reggie Watts, Saul Williams and many more. B.W.B. has also produced live show backing for various artists such as: Grammy Nominated vocalists Wayna and Rocky Dawuni, Sy Smith, Zo!, Dynamq, Choklate, Kimberly Nichole, Massive Monkees and Xperience. Aaron is a proud alum of the CD Music Factory: Washington Middle School Jazz Ensemble (directed by Mr. Robert Knatt), and Garfield High School Jazz Ensemble (directed by Mr. Clarence Acox). Most recently Walker-Loud co-founded 50 Next: Seattle Hip-Hop Worldwide in 2012, founded the award-winning intergenerational BWB Drumline in 2015 and co-curated The Legacy of Seattle Hip-Hop exhibit at MOHAI (with over 31,000 attendees and 20 co-produced events), which won the 2016 American Association of State and Local History Leadership in History Award.
http://www.bigworldbreaks.com
|
http://www.bigworldbreaks.com/BWBdrumline
|
http://www.50nextseattle.com