Kaytranada – 2nd show added!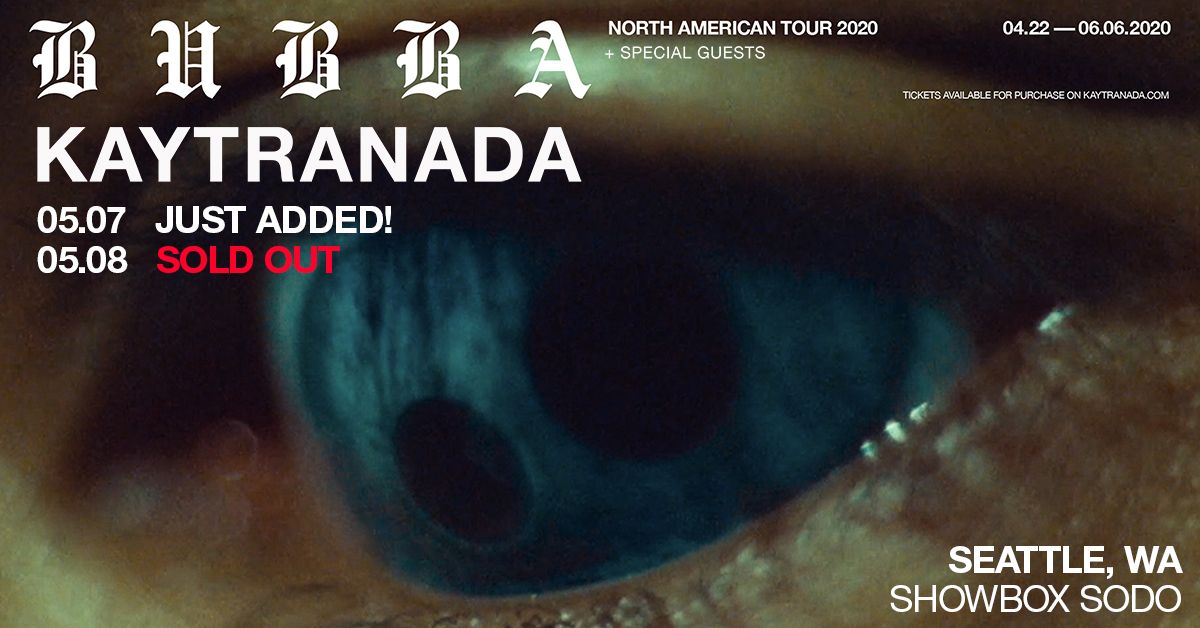 Showbox Presents
Bubba North American Tour
KAYTRANADA
with STWO
THU, 7 MAY 2020 at 09:00PM PDT
Ages: All Ages to Enter, 21 & Over to Drink
Doors Open: 08:00PM
OnSale: Fri, 14 Feb 2020 at 10:00AM PST
Announcement: Thu, 13 Feb 2020 at 10:00AM PST
Born in Haiti and raised in the city of Montreal, Canadian artist Kaytranada has experienced an explosive rise in the past couple of years with his irresistible production and live sets, but the hard work and success did not happen over night. Before touring the globe and amassing millions of hits online with his series of beloved tracks and mixes, the young man came up as a true disciple, absorbing hip hop and RnB culture since his childhood and finding ways to make the music his own.
Since the age of fourteen, when he first began to DJ and the following year when his brother introduced him to music production software, his output has been relentless. As he explains, "after he showed me the basics, from that day on I couldn't stop making beats," pumping out a beat a day for the next couple of years and soon after self-releasing a series of EPs and beat tapes that quickly began to expand his reach. Official releases on HW&W and Jakarta Records soon spread his name like wildfire and some instant-classic remixes by the likes of Missy Elliot, Janet Jackson,TLC, Danny Brown and others have cemented his reputation and his sound; an undeniable swing of the drums comparable to Dilla's, a signature soulful touch in the melodies, and a healthy dose of funky bass lines.
In 2014, Announcing via his Facebook page, KAYTRANADA signed an exclusive recording agreement with XL Recordings, the historic London based record label. His long-awaited debut album, 99.9%, was released on May 6, 2016 with an overwhelming positive response. The album includes features from GoldLink, AlunaGeorge, Syd, Anderson .Paakm and Vic Mensa among others. "Glowed Up ft. Anderson .Paak" was named Best New Music by Pitchfork when it was released as the album's 3rd single, along with a stunning music video. The album's second music video for "Lite Spots" was nominated for a 2016 Much Music Video award.
Apart from his solo work, Kaytranada has produced for Mick Jenkins, Mobb Deep, Kali Uchis, Mobb Deep, Chance The Rapper, Talib Kweli, The Internet, and more. All of this production caught the eye of someone in particular in late 2015. Def Jam legend, Rick Rubin reached out to Kaytranada for a partnership with his publishing company Pulse Recordings. They soon later inked an exclusive deal.
Critics often say his career as an artist has 3 parts and that's what makes him so versatile and talented. Solo artist, Producer, and DJ. The latter of which he has proved time and time again. Kaytranada has toured over 100 different cities world wide, and has played many major festivals such as Coachella, Osheaga, Panorama, LoveBox, and many more. He is non stop in demand as one of the worlds most popular Dj's, and sells out the world's most prestige venues on a regular basis with his exceptional show.
With his career only beginning, and having accomplished so much already, keep your eye on this extraordinary producer as chances are you will be hearing a lot from him in the decades to come.
Guests 21 and over can join us in the Showbox SoDo lounge 2 hours prior to scheduled door time for food, drinks and priority entry into the showroom.