Sovereign Queendom Release ft. Julie-C, Sista Hailstorm & more!
January 26, 2020 @ 11:30 AM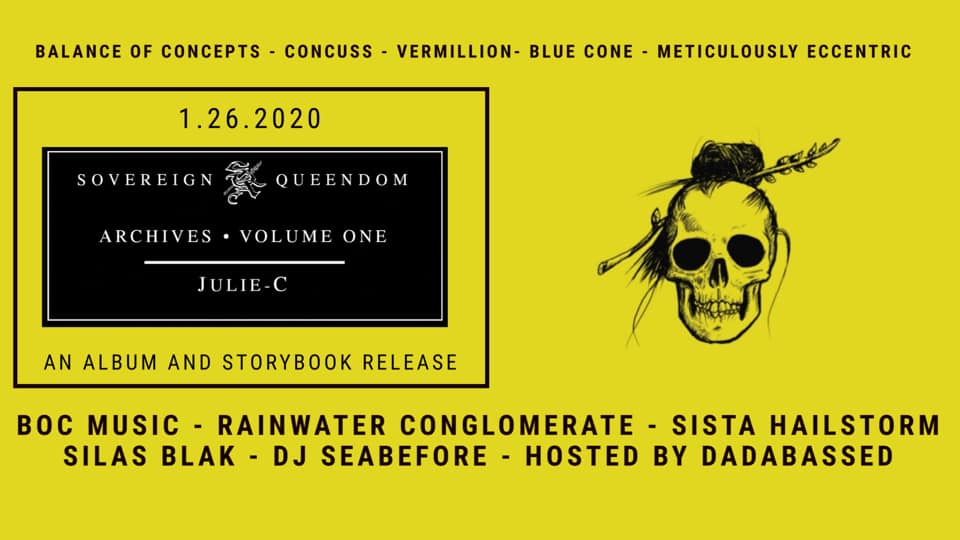 January 26th is the first day of Chinese New Years, the Year of the Rat, and Julie-C is celebrating the momentous occasion of her astrological return with a release of a project near and dear to her heart. Please join and support the artistry of ya girl.
Hosted by Dadabassed featuring DJ Seabefore and performances by:
Sista Hailstorm
Julie-C
Rainwater Conglomerate
Silas Blak
BOC Music
Vending with Concuss Creations, Blue Cone Studios, & Meticulously Eccentric!
LIMITED PHYSICAL EDITIONS AVAILABLE FOR PURCHASE HERE:
https://www.concusscreations.com/product/the-sovereign-queendom-archives-volume-1/
ABOUT THE PROJECT
"Presented in collaboration with B.O.C. Music, this limited edition audio-literary artifact is the first installment of a mind and genre-bending triptych by one of Seattle Hip Hop's most beloved cultural agitators, Julie-C.
The inaugural box set includes a 10 song musical program of original, previously unreleased material on compact cassette, all set to the subtle complexities of producer Intylekt's roiling and rollicking compositions.
Complementing this auditory offering is a 32-page storybook, illustrated by Seattle artist Barf Loko, that resurrects a famous piece of Chinese folklore in grotesque allegory for an epic prologue to the series.
The two works conspire to create new space between the intimate and surreal, the personal and mythic, in an immersive multimedia experience. Be among the few to add this rare, display-worthy document of Seattle's legendary indie art movement to your own archives – before it's too late!"
BUY NOW:
https://www.concusscreations.com/product/the-sovereign-queendom-archives-volume-1/