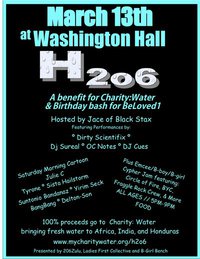 Local Hop Hop artists and Central District community members unite in the name of clean water.
H2o6 Birthday Benefit for charity:water
Sunday, March 13th, 5pm-10pm
Washington Hall (153 14th Ave)
100% of proceeds go directly to charity:water (www.charitywater.org) a non-profit organization bringing clean and safe drinking water to people in developing nations.

Seattle Hip Hop community organizations, 206Zulu, B-Girl Bench, and Ladies First Collective combine forces in the name of a vital, but overlooked cause–clean water. The celebration, fittingly titled, 'H2o6' is billed as a concert, breakdance jam, and bash for local MC/B-girl, BeLoved1, as well as all March birthdays. Included in the course of the night are over nine live Hip Hop acts, three deejays, open mic, breakdancing showcases, and open dance floor. Featured artists include: Dirty Scientifix, Yirim Seck, Julie C, Suntonio Bandanaz, Sista Hailstorm, BangBang, Delton-Son, Tyrone, Saturday Morning Cartoon, and DJs Sureal, Cues, and OC Notes. The night is hosted by Jace of Black Stax, and B-Boy Orbitron. Featured breakdance crews include Circle of Fire, Fraggle Rock Crew, BYC, and North City Rockers. In addition, delicious food is provided by Seattle Community Kitchen volunteers. The event is family-friendly and all-ages. Donations will be taken at the door, and throughout the night.

About the Issue: Unsafe water and lack of basic sanitation cause 80% of diseases and kill more people every year than all forms of violence, including war. Children are especially vulnerable, as their bodies aren't strong enough to fight diarrhea, dysentery and other illnesses. 4,500 children die each day from diseases caused by a lack of safe drinking water and proper sanitation. $20 provides one person with access to clean drinking water. The advantage of charity:water is that 100% of public donations directly fund sustainable water solutions in areas of greatest need. A group of private donors, foundations and sponsors help pay for the everyday costs of running the organization, so all public donations go straight to on-the-ground project costs. (information taken from www.charitywater.org)

Local support for H2o6 and the issue of water justice has proven to be strong. This spirit of enthusiasm and volunteerism displays the passion and commitment of both the Hip Hop and Central District Communities to transform global problems by not only inspiring awareness, but also through direct action. H2o6 is part of charity:waters birthday campaign, which recently garnered significant media attention when Will Smith and Jada Pinkett pledged their birthdays on the Oprah Winfrey Show. H2o6 currently stands alone as the first and only event of its kind in Seattle: it promises to be an exciting and eye-opening event for all ages.