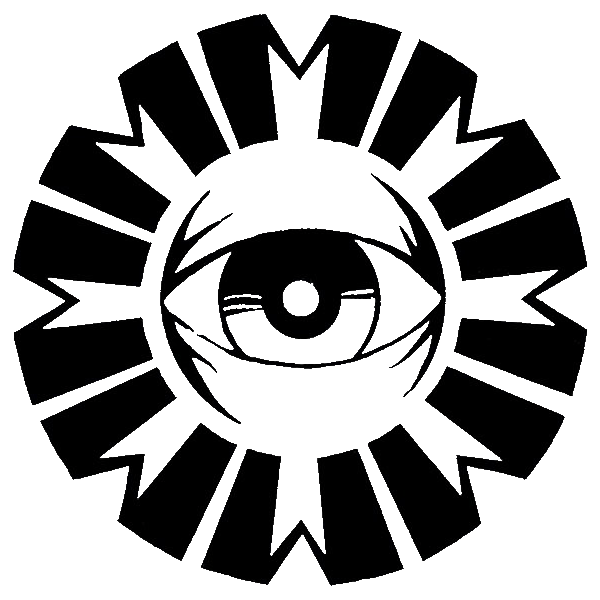 August 14, 2010

Over the last 15 years, MAD Krew has helped shape the core of the Hip Hop community of Seattle and beyond, paving the way for new generations to expand. From street art to galleries, documentaries to live television, house parties to festivals and national summits, and education to community organizing, MADK continues to thrive in the hearts and minds of many.

Initially a Hip Hop crew, MAD Krew or Madness After Dark began in 1995 consisting of graff writers, emcees, deejays, producers, and b-boys that lived throughout the city of rain- Seattle, Washington. Members could be seen or heard spreading the culture of Hip Hop, building on its foundation in the Pacific Northwest from Franklin High School to Jefferson Community Center to Westlake Center and beyond.

MAD Krew helped nourish the scene by organizing countless events and shows including Breakin' Grounds, Scratch Tactics, The Cypha, Rec Battles, Brainstorm Battles and others. The crew's graff art could be seen on walls and in galleries such as Evidence at Consolidated Works and the EMP's 'Yes, Yes, Yall' Hip Hop museum. MAD Krew's release of the Hip Hop documentary video, 'Enter the Madness' in 1998, exposed Northwest Hip Hop to a national audience. Shortly after, member Dirty Dev (now known as Dev From Above) and others began Hip Hop 101, a live weekly television show on S.C.A.N. Channel 77 / 29. As a platform for emerging artists both locally and nationally, Hip Hop 101 TV provided the latest in Hip Hop news and entertainment for nearly a decade. As a record label Fresh Chopped Beats/MADK Productions has released various albums, compilations, and mix-tapes on CD and vinyl; including artists Khingz, Gabriel Teodros, Cyphalliance, DJ Scene, Khazm and others.

With a over a decade of community involvement, several members of MAD Krew joined the Universal Zulu Nation in 2003 to establish a Seattle Chapter called 206 Zulu. Zulu Nation is a community-based organization established in 1973 by the Godfather of Hip Hop, Afrika Bambaataa and other Hip Hop pioneers as an international awareness movement for peace, unity, education, justice and self-empowerment.

Today MADK Productions continues to sustain their rich tradition of using Hip Hop as a means to connect people of all walks of life, through business and interpersonal relationships. MAD Krew's influence and accomplishments has helped shape the foundation of Seattle Hip Hop and continues to pave the way for a whole new generation.

Experience history in the making as MAD Krew celebrates it's 15th year of true-school Hip Hop- Saturday, August 14th with all out cyphers with some of the World's best DJs, MCs, B-Boys/Girls & Writers!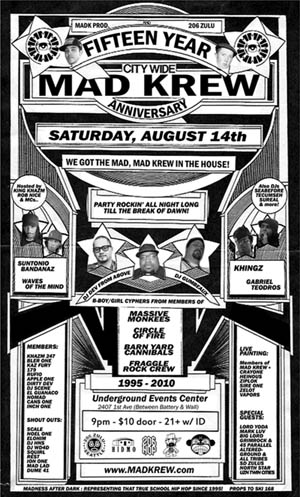 MADK Productions & 206 Zulu present:
MAD KREW 15 YEAR ANNIVERSARY

DJs: Mark Luv (LA), Dev From Above, Gumbeaux, Seabefore, Tecumseh, Sureal
B-Boys/Girls: Massive Monkees, Circle of Fire, Fraggle Rock Crew, BYC
Live Painting: 179, Bler One, Crayone (SF), Ziplok, HNS, Sire One
MCs: Truth Universal (New Orleans), Gabriel Teodros, Suntonio Bandanaz, Waves of the Minds
& more announced weekly!

Underground Events Center
2407 1st Ave (Belltown between Battery & Wall)

Daytime painting/jam outside – All Ages
Evening event – 21+ w/ ID, $8, Doors 9pm-?

For more information log onto www.MADKrew.com or madkprod@gmail.com