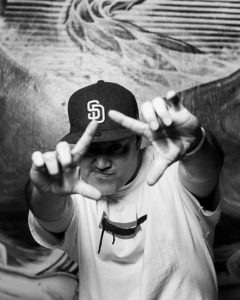 Chris Wright, aka CROS ONE, was introduced to Hip Hop over 35 years ago. Like many others of his generation, it all started the minute the Run DMC cassette tape hit the boombox. Through the eighties and nineties he was breaking, tagging, and creating spray can art. This is where he got his name CROS ONE.
He threw his very first Freestyle Session in 1997, in his hometown of San Diego, California. From there he co-founded Out For Fame, the first National Championship Breaking Tour in 2000. In 2002, he started the Armory Hip Hop Shop with a few other local San Diego DJs, and began hosting local nightlife parties and concerts, which still go on to this day.
Freestyle Session is now in its twenty second year. Through the efforts of he and his business partner Polo Molina, of Grassroots Productions, they have made Freestyle Session the premier Hip Hop event focusing on street dance in North America, and one of the top events in the world. With the help of organizers and dancers across the planet, Freestyle Session has spread to over forty countries including Japan, South Korea, Russia, France, Turkey, Spain, Australia, Mexico, Brazil, China, and many more.
CROS ONE not only supports breaking, but also other elements that contribute to the culture – street art, fashion, DJing, and MCing. He has collaborated with organizers of other important events in the U.S. and abroad to promote the scene – Soundset, Bumbershoot, Rock the Bells, Scribble Jam, Urban Games (UK), Nike Freestyle Summer (South Korea). CROS ONE partnered with Steve Graham, aka Bboy Silverback, to form UDEF and the Pro Breaking Tour, which was formally launched in January 2014. Since its inception, UDEF has sponsored over 150 events world-wide and has put up over $1,000,000 in prize money via the Pro Breaking Tour.
He currently serves as a board member of the Youth Olympic Committee which advocates for breaking to gain official olympic status.
Through his work as a promoter, CROS ONE uses his history, experience, and influence to keep breaking and hip hop culture vibrant and thriving. Just like RUN DMC said, "To burn my kingdom, you must use fire, I won't stop rockin' 'til I retire."
Videos