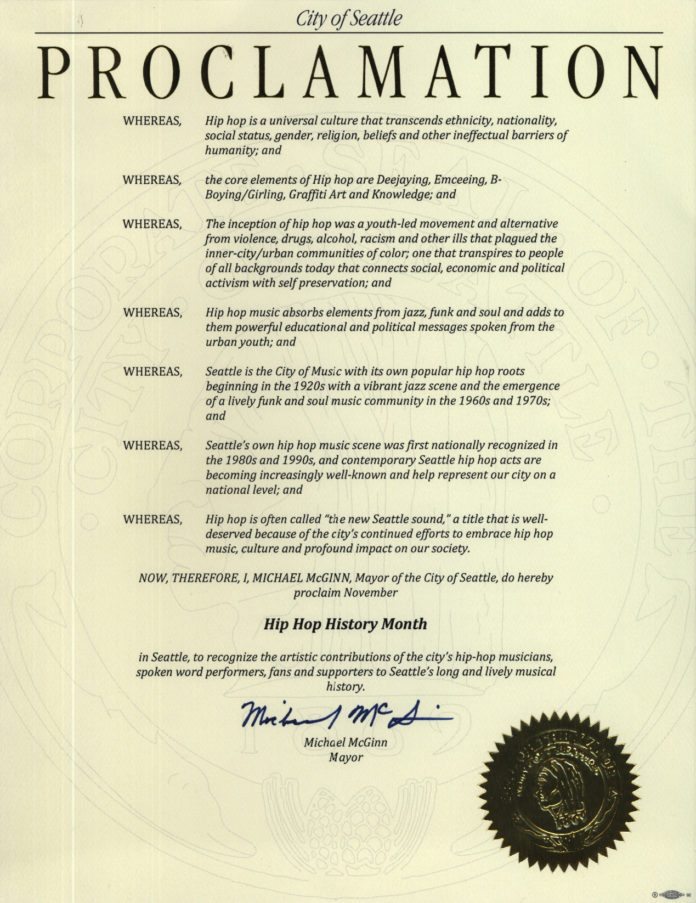 Seattle Mayor Michael McGinn Proclaims November as Hip Hop History Month
206 Zulu Helps Promote Awareness for Hip Hop Issues and Culture

SEATTLE, Wash., November 1, 2010 – 206 Zulu announced today that Seattle Mayor, Michael McGinn, issued an official proclamation recognizing November as Hip Hop History Month, honoring both the birth month of Hip Hop culture and the important contributions made by Seattle Hip Hop artists in the areas of Deejaying, Emceeing, B-Boying/Girling, Graffiti Art and Knowledge. 206 Zulu petitioned the Mayor in early October for the acknowledgement.

"206 Zulu is excited that Mayor McGinn recognizes the many contributions made by hip hop artists in the Seattle community", said King Khazm, chair of 206 Zulu. "Being able to celebrate Hip Hop History Month in Seattle is a celebration of all of the hard work, sacrifice, innovation and dedication of local artists whether famous or nameless. Moving forward, this annual occasion will facilitate additional education programs to celebrate the culture in a positive manner."

Hip Hop Culture began in the neglected and poverty ravaged New York City Burroughs, the South Bronx, in November of 1974. Hip Hop has since become a global culture and has made a profound impact on Seattle's arts and music community. Hip Hop in Seattle was pioneered in the early-to-mid 1980's and has grown across all its artistic mediums, known as the "Five Elements" gaining local, national and international recognition.

The official birthday of Hip Hop is November 12th, 1974. Within the past 35 years, Hip-Hop culture has greatly influenced the entertainment world with its creative contributions in music, dance, art, poetry, and fashion.
OurStory
Hip Hop History Month Home Page