Nectar Virtual Concert Series presents RAZ SIMONE-Virtual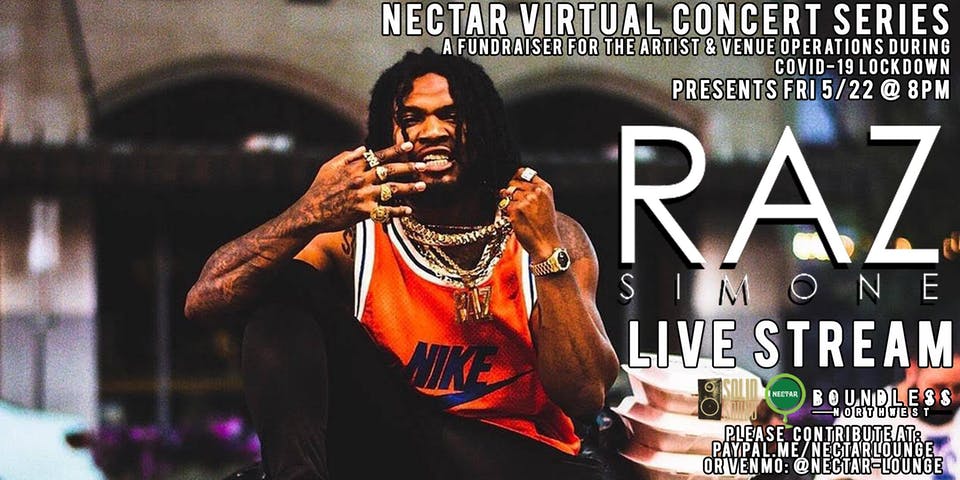 Nectar Virtual Concert Series #16 featuring Raz Simone! "Pay What You Will" via PayPal @ 
paypal.me/nectarlounge
5.22 Friday (Hip-Hop)
Nectar &
Solid Sound
present:
NECTAR VIRTUAL CONCERT SERIES featuring
Raz Simone
Friday, May 22st
8:00-9:30pm PST
$10 & up Suggest Contribution (your contributions are greatly appreciated!)
A Fundraiser for:
Raz Simone
and Nectar staff/operations through COVID-19 lockdown
***Keeping performers and limited crew safe is the #1 priority. More info on sanitization practices and ground rules can be found on the eventbrite ticket link***
————————
RAZ SIMONE
Raz Simone is a hip-hop artist from Seattle, Washington. His inspiration stems from his diverse life, as opposed to any musical predecessors. Growing up Raz did not listen to any music. It wasn't until he started writing poetry, then speaking his powerful words over movie scores that he realized he was rapping.
Mixing creative foresight with entrepreneurial spirit, Raz produces, raps, sings, designs graphics, and directs videos all under his independent label, Black Umbrella.
In 2012, Raz partnered with Black Umbrella's Sam Lachow to create a five song EP '5 Good Reasons'. The positive reception landed both artists on tour. Raz then followed up with his debut solo EP, 'Solomon Samuel Simone', and the follow-up album 'Cognitive Dissonance'.
2015 saw him very busy with a a 52 city tour, and 3 new projects 'Cognitive Dissonance: Part 2', 'Macklemore Privilege & Chief on Keef Violence', and 'Baby Jesus', all available for free download on 
https://www.razsimone.com/
.