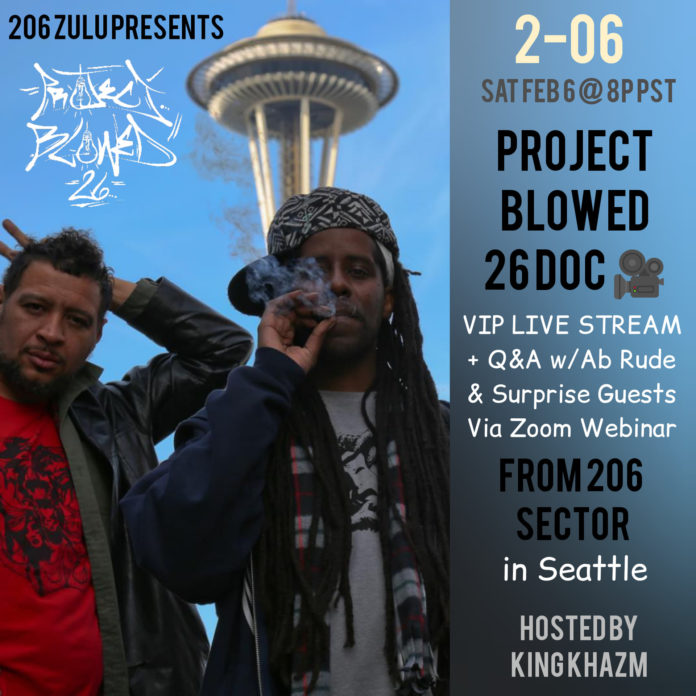 206 Zulu Presents
Project Blowed 26 Hip-Hop Documentary Screening
Saturday, February 6, 2021, 8pm PST

Project Blowed is a hip-hop artist collective born out of the Good Life Health Food Centre's LA Underground movement that began in December of 1989. By Dec. 1994, they migrated south on Crenshaw to Leimert Park to continue a culturally impactful 26 year and counting legacy of their own. Writer Abbey Rizzle & other Artists discuss Project Blowed's legacy.

Credits:
Exexutive Producer: Aaron "Abbey Rizzle" Pointer
Co-Executive Producers: Edwin "Aceyalone" Hayes, Jr.
& Ben Caldwell of KAOS Network
Associate Producers: Kim Huynh, Adrienne Storey, Maya Huyana, China Williams, Quess Coast, Big Bo, Shames Worthy & Alyson Bruno
Directed by: Abbey Rizzle
Co-Directed by: Aceyalone & Ben Caldwell
Filmed by: Kim Huynh, Brandon Petoc, China Williams, Quess Coast, Big Bo & Shames Worthy
Additional Footage: Courtesy of Blowed 26 artists
Creative Consultants: Myka Nyne, Flea Lee, Sonia Kifferstein, Phoenix Orion, Rifleman, ceSee & Orphius Jones
Hosted by: Abbey Rizzle, Ashley Dominique, Poetic S, China Williams, Phoenix Orion & Myka 9
Written by: Abbey Rizzle
Editor: Alyson "B. Squid" Bruno

Program description:
-A to Z: 26 years of Project Blowed documentary. Intermixed with never before seen concert footage from last year's anniversary concert.
-Pre-recorded Project Blowed OGs & Next Generation rhyme cyphers in Leimert Park and at a film studio in North Hollywood.
-Performances & videos by several Project Blowed artists
-Presentation of the annual Ben Caldwell Award. Presented for Excellence in Black Arts that inspires your community.
-Some of Project Blowed's special moments & fondest memories
-Q&A with Abstract Rude and Special Guests

Registration (Free)
https://us02web.zoom.us/webinar/register/WN_G9O96LThTVCGgbKGPZPcBQ

Background
1994 post riot torn Los Angeles. The gang truce between Bloods & Crips that had been in place since the 1992 uprising after the beating of Rodney King was slowly fading yet underground hip hop was on the rise. Headed by Aceyalone of the freestyle fellowship and Abstract Rude of ATU, the moderately successful, mostly black and brown Arts collective of The Good Life Cafe, had migrated South to one of the last black-owned cultural and business hubs of South Central Los Angeles in Leimert Park. Film Director, Professor & father figure Ben Caldwell, the owner and operator of a then one room workshop venue on the corner of 43rd and Leimert, opened his doors to A-Team Productions, Afterlife Records, B-boy kingdom and DJ Kiilu to begin the first Project Blowed Open Mic Thursday nights. They celebrated beloved Good Life producer/MC NgaFsh of CVE's birthday as their first night on Dec 28, 1994.
What these artists had already done was legendary not only in the streets & inner circles of the music industry in Los Angeles & Hollywood, but globally. Yet they couldn't have known that a 26 year and counting legacy would ensue from their relocation to Leimert Park. Every year since that first night, the collective successfully celebrates it's growth and inspiration at their annual Project Blowed Anniversary Concert.
This year as another unfortunate impact of the Covid-19 plandemic, we can not gather in quite the same way as we could in previous years. But we can still joyously celebrate Project Blowed's 26 year contribution to hip-hop culture with a mixture of live cyphers in the park, and pre-recorded segments that include never before seen footage from last year's concert. We will also present a biopic recap of our Blowedian chronology. 

Facebook Event Page