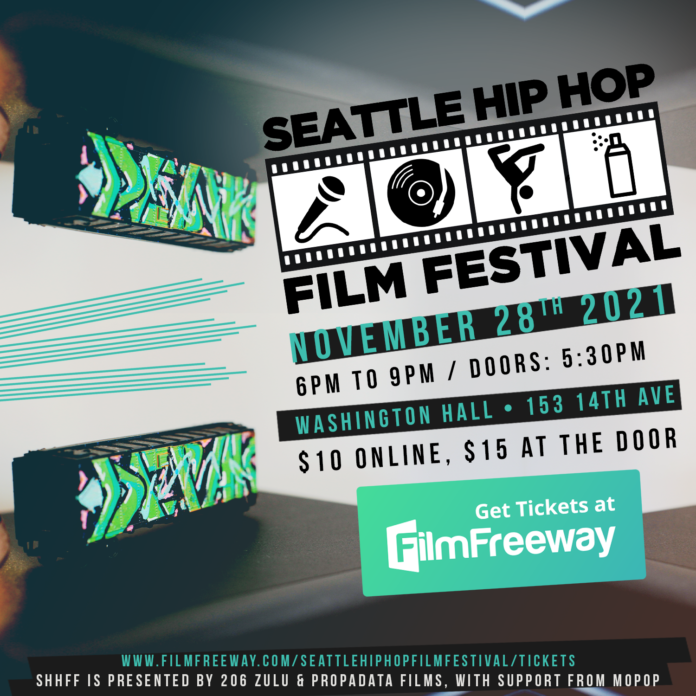 Tickets for the second annual Seattle Hip Hop Film Festival are now on sale!

November 28th 2021 at Washington Hall | 6pm to 9pm – Doors at 5:30pm

SHFF is presented by 206 Zulu & Propadata Films, w/ support from MoPOP.

Our 2021 program will include short films from local filmmakers & beyond + "Tlacuilos" a feature documentary, produced by Federico Peixoto, exploring the evolution of graffiti & hip-hop in Central America.

Ages 12+ must show proof of vaccination or negative PCR test within 48 hours. Masks are required.


---
Seattle Hip Hop Film Festival 2021 Films


Tlacuilos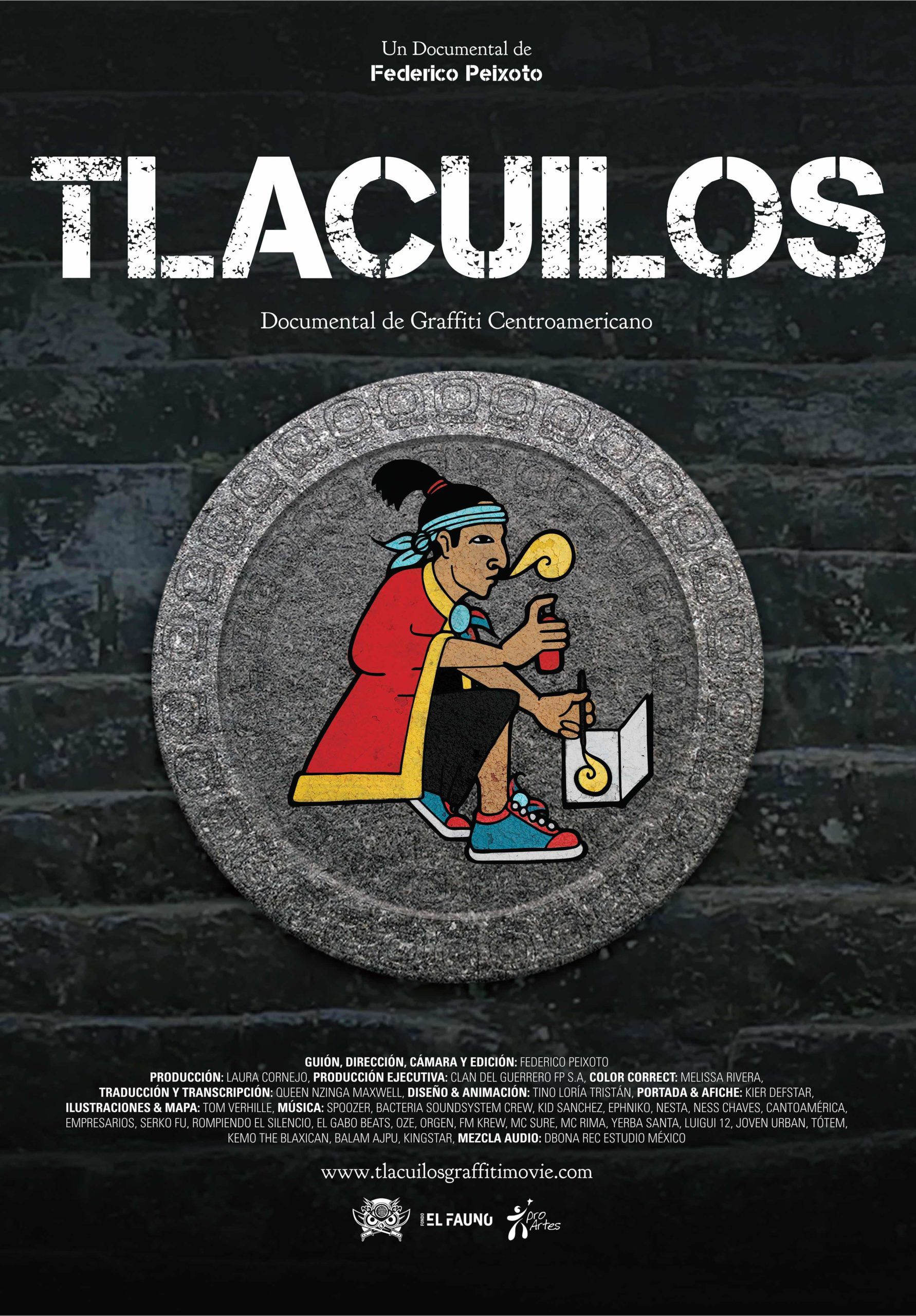 Tlacuilos
Directed by Federico Peixoto
Running Time: 83:00
San Jose, Costa Rica


Description:
Tlacuilos, "The definitive film chronicle of Graffiti and Hip Hop in Central America" and groundbreaking epic, shot by Costa Rican director Federico Peixoto, and told in the voices of its pioneers, debuts in the Pacific Northwest at the 2nd Annual Seattle Hip Hop Film Festival. "Tlacuilos," in the Maya empire, were master sculptors who carved their chronicles with hieroglyphic inscriptions in stone that still stands two thousand years later. Filmed over a duration of twenty years in eight countries, Tlacuilos draws in high-relief the distinctive stamp Central America brings to the genre. Its visual "signature" proves a living connection with ancestral Maya art, visiting important archaeological sites across the isthmus. A long-standing tradition of world-class narrative claims its rightful place in the rappers' rhymes, which mirror the disparity, disasters, civil war and exodus that mark their world. The score, largely original works composed expressly for the film, calls upon a nativist spirit, but sets it against an intriguing, bold tapestry of contemporary and World Music influences. Tlacuilos offers a sweeping, 83 minute view of the region and of a movement that is "achieving what politics has never achieved: Central American integration". (DJ Flako, Guatemala, 2012) (In Spanish with English subtitles)
BLM
BLM
Directed by Xavier Luciano
Running Time: 3:59
Philadelphia, USA


Description:

Philadelphia rapper Ellect (Stephen Tyson Jr.) performs "BLM" directed by filmmaker XVR (Xavier Luciano). Concept by Ellect. Written and produced by Ellect. Co-produced by 6 Stringz (Phillip Pearce). Dance performances by Xavier Luciano, Tyler Brown, Ashley Simone, Re-Mus, & Soku Massimo. Contains original footage from Xavier Luciano and Stephen Tyson Jr. from 2020 protests in Philadelphia support of black lives against racial and police injustices that occur in the United States of America and around the world.
IN SA IA – Journey into the Sardinian Rap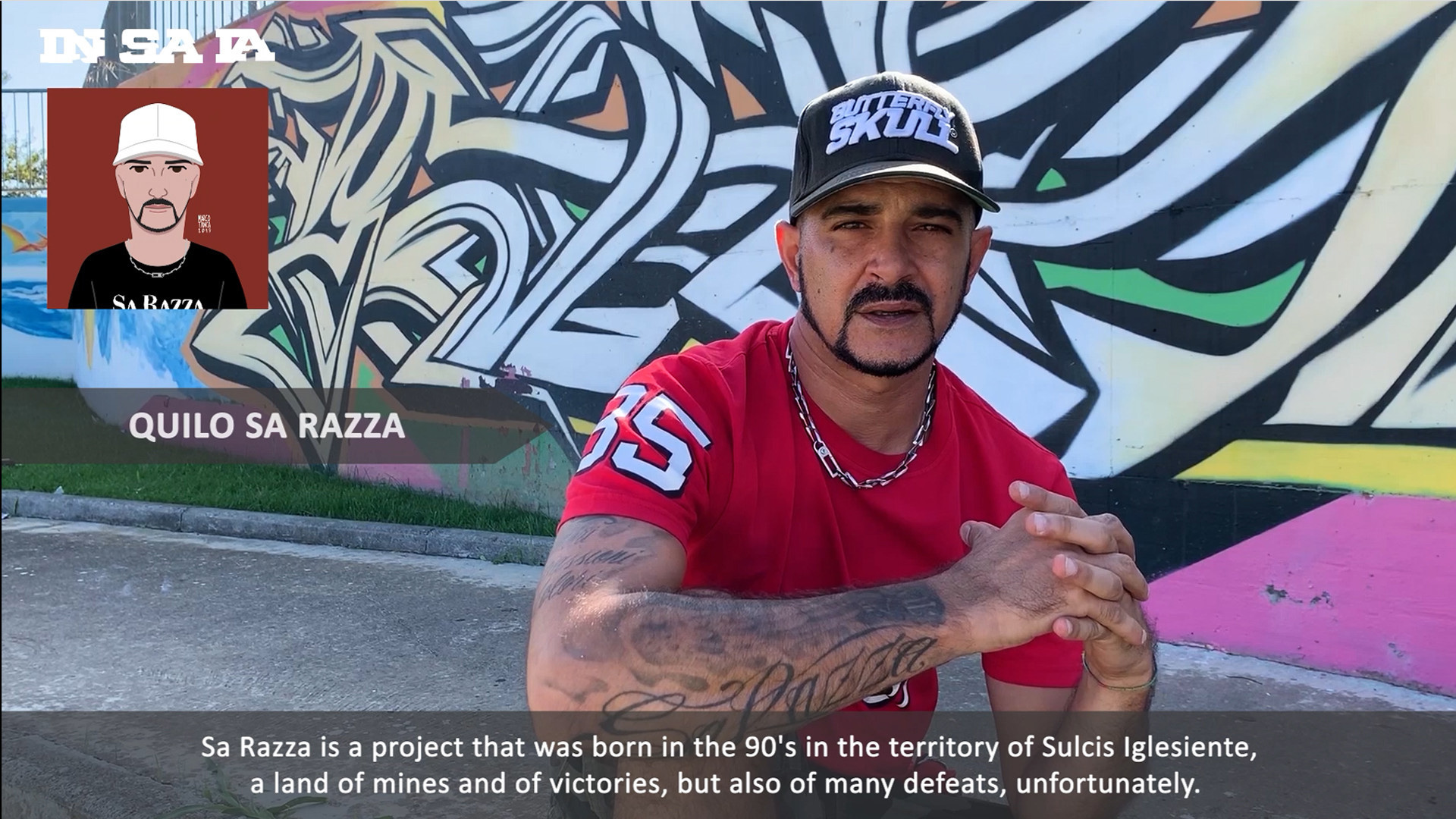 IN SA IA – Journey into the Sardinian Rap
Directed by Marco Tanca
Running Time: 10:06
Cagliari, Italy

Description:
"IN SA IA – Journey into the Sardinian Rap" by Marco Tanca is a documentary that aims to raise awareness and promote the Sardinian rap. Through the testimonies of the protagonists themselves, the different styles are told, to provide the viewer with an overview of the major exponents of the regional rap scene. Today, if we think of an artist like Salmo, it is the demonstration of how our land is rich in talents and an impressive creative forge for what is now the best-selling and followed musical genre. "IN SA IA", means in the street, it is the title of a song by Sa Razza present in the first recording work published by a Sardinian rap group in 1991.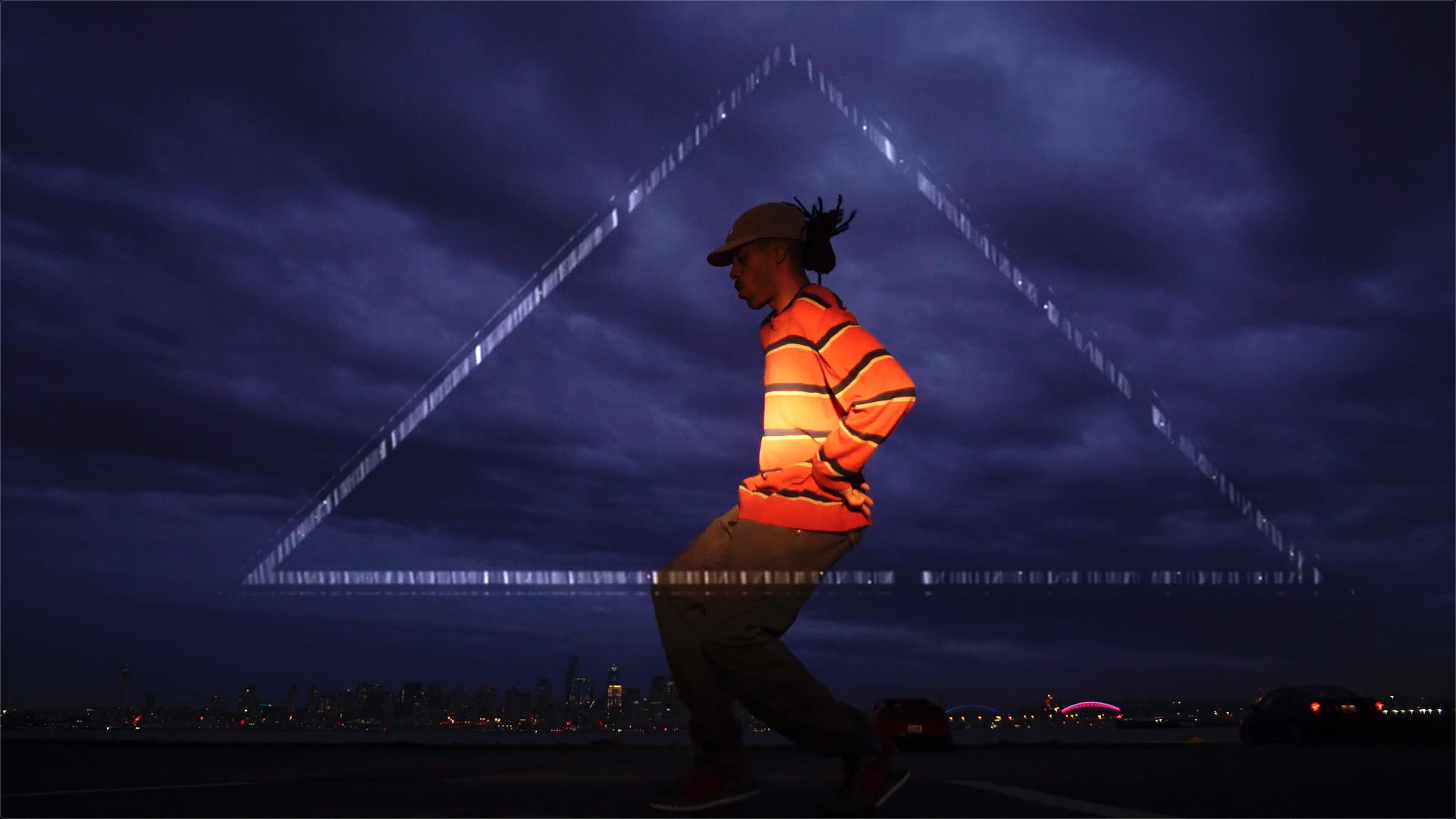 Geometric Ghost
Directed by Dufon Smith
Running Time: 1:36

Description:
Geometric Ghost spotlights B-boys Orbitron and Free of Soulshifters/Circle of Fire, who are recognized globally for their free flowing and innovative dance styles.
#hashtag
#hashtag
Directed by
Arlo Maverick, Michael B MacDonald
Running Time: 2:48

Description:
Edmonton Alberta, Canada-based rapper Arlo Maverick is addressing police brutality against Black people in a powerful new single and video, "Hashtag."
Gone Away From Here
Directed by William Lemke
Running Time: 4:44

Description:
Gone Away From Here is the first video from King Khazm's newest project "Return of a MAD" and features emcees Abstract Rude, Myka 9 and Moka Only. The video employs recaptured projection to bring new life to studio footage paired with stop-motion animation to capture the energy of the lyrics.
Logan Lee & the Rise of the Purple Dawn
Logan Lee & the Rise of the Purple Dawn
Directed by
Raymond C Lai
Running Time: 8:30

Description:
Turntablist Logan Lee is in love with his best friend, Beatrice Pan, and tonight, she's throwing a party! That means DJ Logan's Fun is in the HOUSE! Now if only he wasn't so nervous. But not to fear, Auntie Bobbie is here with some of the rarest weed she's ever laid lungs on, Purple Dawn. Unfortunately, Logan soon discovers there's much more to this strain than its soothing effects.
Where I'm From
Where I'm From
Directed by
Pascal Tessaud
Running Time: 4:31

Description:
Music video shot in the South Bronx, Harlem Riverside & Lower East side with the crew GET OPEN in New York.
Cat Scratch Fever
Cat Scratch Fever
Directed by
Andrew M Volpe
Running Time: 2:22
USA
Description:
The video features Houdini, Ross and Andrew M Volpe's adopted tan and white feline, in a black hoodie, who aspires to become the "Sultan of Scratch" in the cat community, by practicing on small turntables while "DJ" Ross is fast asleep. The ruckus wakes him however, and he implores the cat to "please stop scratching" so he can go back to bed. Andrew's clever camera angles from above and below make Houdini's DJ histrionics come alive on screen. The film ends with the text PSA message that "The coolest cats need a place to scratch. Adopt a pet today." Ross Volpe is an award winning musical talent. Andrew M Volpe has won film and screenwriting awards.
OurStory
OurStory
Produced by MoPOP & 206 Zulu
Running Time: 11:32
Seattle, USA
Description:
Archival interviews featuing Vitamin D, Mr. Supreme, Kutfather and Sir Mix-A-Lot.