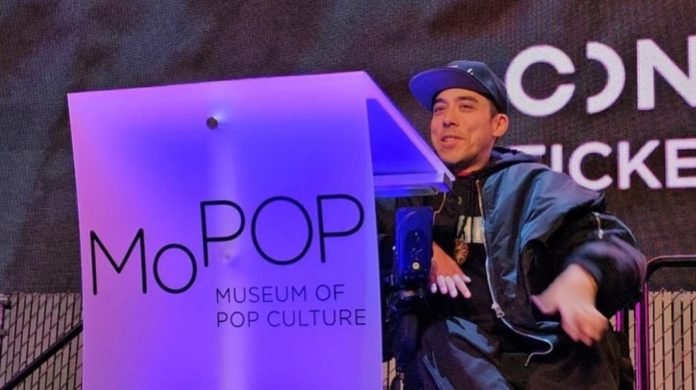 Editor's note: 206 Zulu co-founder, King Khazm often travels and speaks to audiences about Hip Hop, social justice, disability rights, and much more. He was recently asked to address attendees at the Seattle Museum of Pop Culture's (MoPOP) daylong tribute to Hip Hop History Month. As part of our continuing celebration of Hip Hop's 50th bornday and in honor of Hip Hop History Month, we're publishing a retouched version of King Khazm's notes for that MoPOP speech which read much like a love to letter to Hip Hop with a touch of info on his work with 206 Zulu over the years. A few reflections from the throne room…
Peace and greetings beloved ones,
We are gathered here to celebrate this youth-driven form of expression turned global culture called Hip Hop.
Hip Hop- A phenomenon so vast and widespread, the rhythmic drums which once reverberated from the heart of the motherland Africa, have now amplified to the edges of the furthest blocks, forests and shores of each continent Throughout the years, the various styles, techniques and sounds may have evolved, but the core values of Hip Hop have remained the same. The values of peace, unity, love and having fun are not just fundamental, but vital to the very essence of Hip Hop.
While inherently apolitical, Hip Hop is true democracy in practice. It is universal in all the effectual barriers of humanity, transcending race, religion, class, gender, language, geography and more. It's a cultural movement with a sense of unity but one that is also inclusive of many movements and cultures, Hip Hop has unified organically, when so-called systems of institution and affluence have failed.
It not only inspires and excites us, but engages and activates us to unimaginable heights.
And to those in hardship, it is not only therapeutic and healing, but triumphant and transformative, ascending us to unparalleled plateaus. From plight to grace, and grief to relief, the voices of the young who go unheard and unfelt, now are ever present and omnipotent. Their voices are not just heard, but felt. Their message, not just represented, but respected.
I've witnessed this personally, from the dusty roads of rural Antigua to the pavilions and metropolitan oasis of Dubai. From the favelas of Brazil to the rainforests of Malaysia, I have seen first hand the tangible impact of Hip Hop globally. I've felt the impacts that reinforce our collective mission to uplift, preserve, and celebrate.
I've heard the power of voices echoing through the streets as the people of Hip Hop chanted…
Uplift…. Preserve… Celebrate!
Uplift…. Preserve… Celebrate!
In times of challenge and struggle, we support and uplift each other. In times of fragility and deterioration, we revitalize and preserve each other. In times of criticism and obscurity, we pay tribute and celebrate each other. These are the virtues we adhere to and this is why we advocate for Hip Hop History Month, so that knowledge is passed and our unsung heroes are able to smell their flowers while they still can.
As part of our local Pacific Northwest history, 206 Zulu has championed this effort, with the support of the people, and since 2007, has been formally proclaimed by the Mayors of the cities of Seattle, Tacoma, Lacey, Olympia, Bremerton and more recently, Governor Inslee and the state of Washington.
We are all students in life and this is a time of higher learning and purpose. This is a call to awareness and education. This is a time for community and action. We cannot institute change and growth without a voice. My desire is that we are reminded of our god-given purpose, aided by the creative elements given to us, and that we do all within our ability to strategize, organize and mobilize for the next 50 years of Hip Hop.
Let us look back to reach forward; honoring our ancestors while nurturing our youth. They are our future emcees, B-Girls, B-Boys, artists, and turntablists. They are our future leaders.
Let them be afforded the fifth element of Knowledge, to bring it back to One.
Yes, yes y'all, and don't stop. To all the DJs, emcees, B-Girls, B-Boys, graff writers, linguists, entrepreneurs, designers, beatboxers, producers, organizers, educators, and fans, from 2023 to infinity, y'all, rock on!
RELATED ARTICLES
Hip Hop History Month 2023
Hip Hop History Month Home