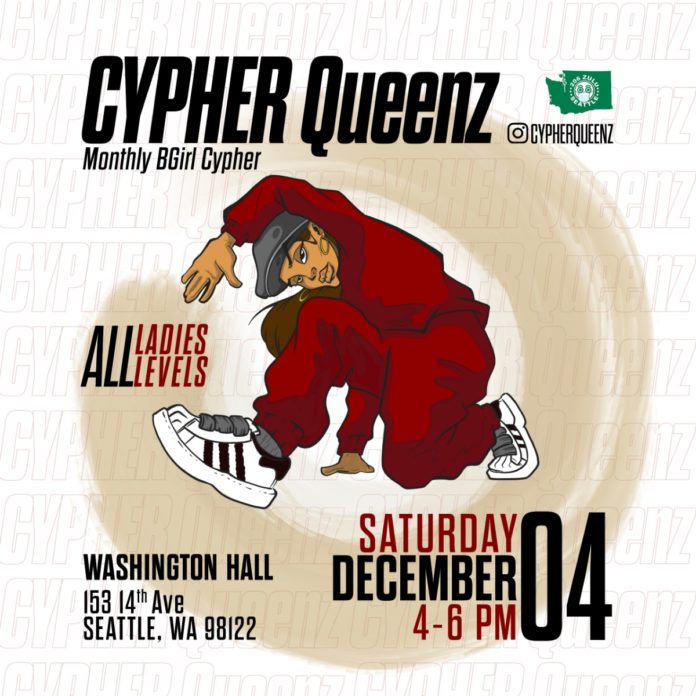 Event info:
We are super excited to bring back our in-person bgirl cypher on Saturday, December 4th at 4pm – 6pm! The session will be at Washington Hall (153 14th Ave, Seattle, WA 98122).

// Requirements //
– Proof of COVID-19 vaccination OR negative COVID-19 test within 72 hours of event, with your government issued ID
– Mask up
– RSVP via online sign-up form

// Session Format //
All session: Bgirl Clothing Exchange   (see "Notes" below)
4:00pm – 4:10pm: Stretch & Warm-Up
4:10pm – 4:20pm: Beginner Workshop led by Bgirl Naj
4:20pm – 6:00pm: Cypher

// Notes //
– We're bringing back our bgirl clothing exchange, so bring any lightly worn bgirl gear you're not using that you think someone else would love to rock!  
– If you're new to breakin', we will take turns dancing, but you're free to dance how long you want! If you get nervous on what to do, feel free to practice the moves from the beginner workshop.
– We're a safe and welcoming space for all ladies of all levels!

If you have any questions in the meantime, please DM our @cypherqueenz IG or leave a comment on the bottom of the sign-up form.